All For Sale by Owner Sites Reviewed, and What You Should Know Before You Sell
For Sale by Owner refers to the practice of selling your home without the guidance of a real estate agent. This is quite often done as a cost-cutting measure by budget conscious vendors but that's not the only reason you might choose to eschew using an agent.
This article will review leading websites which promise to make selling your own home easy and to help you get a similar price as you would with an agent.
While selling your own property might sound appealing, real estate agents often bring more to the table than you realise and without one, you risk getting less for your property than you should.
Table of Contents
If you're a budget conscious property owner, you've probably considered selling your home without a real estate agent. After all, why pay thousands in agent fees when you can get a similar price selling your home yourself?
In the real estate industry, selling without an agent is known as for sale by owner. Sometimes, the process may be referred to as selling privately, which shouldn't be confused with the private treaty method of sale. It means you are responsible for all aspects of your property's sale, from advertising your listing to arranging open houses.
The upside of for sale by owner is that you save money on agent fees. The downside is that you risk selling for a lower price than what you could have achieved with an agent. What's a prospective seller to do?
Wonder no more. In this article we:
Explain what's involved in selling your home without an agent
Show how Australia's for sale by owner market compares to the broader property market
Look at trends overseas to predict the future of the for sale by owner market in Australia
Give an overview of 12 leading Australian for sale by owner websites.
Still on the fence? Have a look at some reasons why using a real estate agent could really help you out.
Let's get started.
How to sell your home without an agent
If you want to sell your property without an agent it is worthwhile to seek assistance from one of several available "for sale by owner" websites. They can assist in preparing advertising and ensuring your property is listed on the main real estate websites  (primarily realestate.com.au and Domain).  
Below is a list of some of the websites helping owners in Australia to sell their properties without an agent:
Real Private
For Sale By Owner
buyMyplace
No Agent Property
Agent In A Box
Real Estate Your Way
Sell My Property Now
For Sale For Lease
Private Property List
Cubbi – no longer offering selling packages
Your Hot Property
Property Now
For a flat fee or ongoing monthly rate, many of these websites will include extras like for sale signs, monthly reports, brochures and advice from property experts.
Some real estate websites, like realestate.com.au, don't allow individuals to list properties. To get around this, for sale by owner websites generally secure a real estate licence. Part of their value comes from being able to list properties on realestate.com.au and others as an 'agency,' even though they are not technically agents and do not charge agent fees.
We analyse these websites in more detail throughout the article. Scroll to the end for an overview of each.
How big is Australia's for sale by owner market?
Here's a clue: It's not as big as you think. For sale by owner properties represent around one per cent of all properties sold in Australia. Of the 500,000 homes sold in Australia in the last 12 months, just over 5300 were sold by an owner, just over 1% of sales.
What we did
All of the for sale by owner websites listed above have profiles on realestate.com.au, which disclose the number of properties sold.
We examined recent sales data for 12 for sale by owner websites to see how many properties sold in the last 12 months (December 2014 to November 2015), and in the 12 months before that (December 2013 to November 2014).
To derive sale numbers, we counted the number of sales listed on each website's agency profile on realestate.com.au.
What we found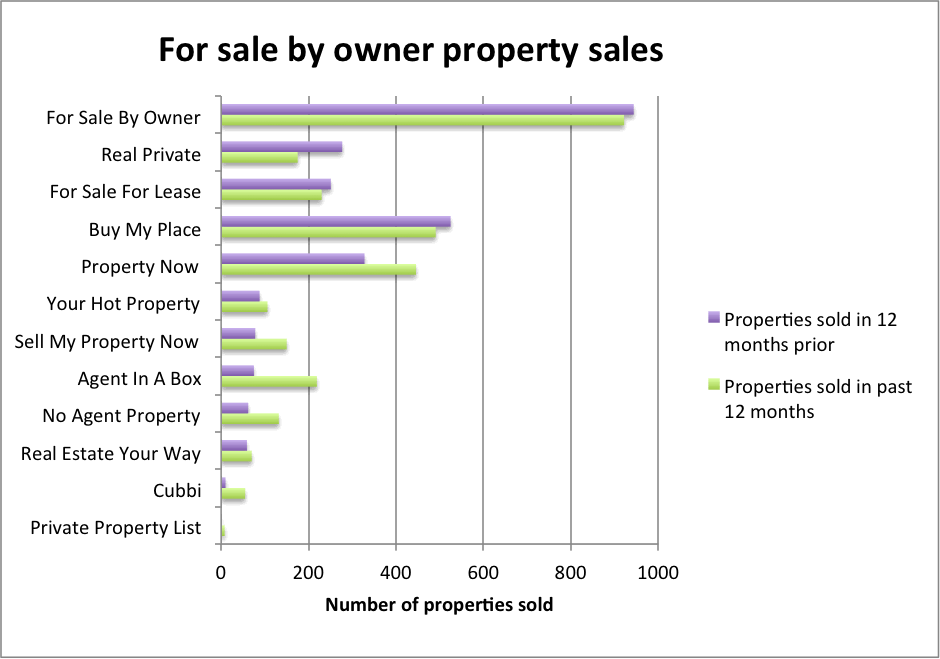 We were surprised to discover that most for sale by owner websites don't have the numbers to support a large network of interested buyers. Half had sold fewer than 200 properties in the past 12 months.
Private Property List sold just eight properties. Cubbi sold 55, and Real Estate Your Way sold 70.
For Sale By Owner and buyMyplace made the most sales in the past year, with 922 and 491 property sales respectively. But that's still significantly less than what the larger national real estate agencies are selling.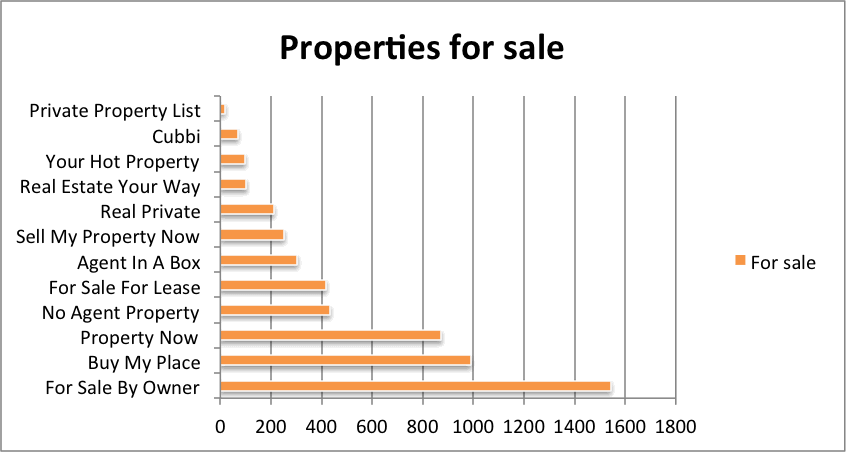 In addition to poor sales data, we also discovered these websites don't have many properties listed. Private Property List, Cubbi and Your Hot Property each had fewer than 100 properties listed. (Note: We collected our data in mid-November 2015, so these figures may have changed.)
Our findings show that for sale by owner websites sold an extra 300 properties in the last 12 months compared to the 12 months before. That growth is nothing compared to the hundreds of thousands of homes sold every year by agents.
The graph below shows which for sale by owner websites have grown the most in the past 12 months.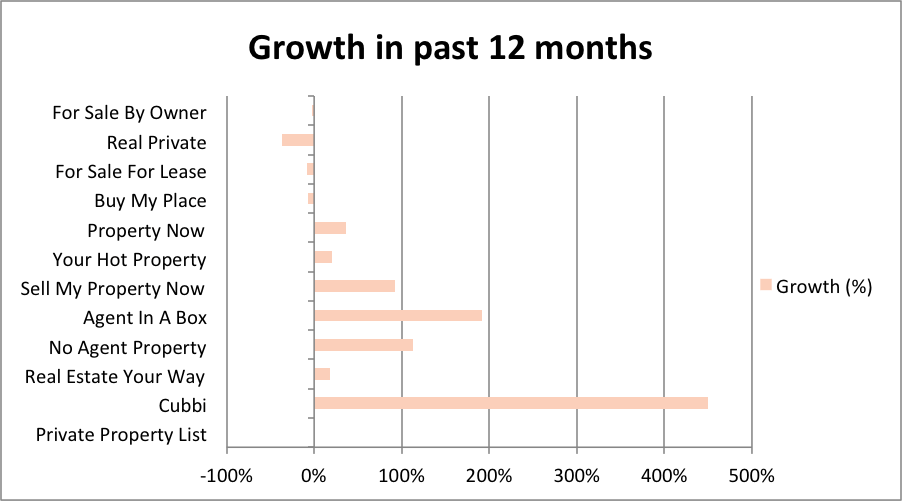 However, some parts of this graph are misleading.
While Cubbi and Agent in a Box experienced the highest growth (400% and 200% respectively), Cubbi increased its number of properties sold from 10 to 55.
Agent in a Box's performance was slightly more noteworthy, selling 219 properties in the past 12 months compared to 75 in the 12 months prior.
For Sale By Owner sold the most properties overall, with 922 in 14-15 and 944 in 13-14. But it contracted by 2 per cent this year.
How Australia's for sale by owner market compares to the UK's
You might think Australia's for sale by owner market just needs time to mature. Sure, it's sleepy now, but there must be overseas markets where for sale by owner is thriving?
To answer this question, we examined for sale by owner data from the United Kingdom. The UK's property market is more mature than ours, and local property analysts often use UK data to predict Australian trends.
We found that for sale by owner has similar market penetration in the UK as in Australia. Of the 1.2 million properties sold in the UK every year, just 10,000 are sold by owners who don't use agents. That's less than one percent of all property sales.
The biggest change to the UK industry most recently is the emergence of a hybrid real estate model called Purplebricks. It operates both online and offline using professional agents and charges one-tenth of traditional real estate property fees. Purplebricks has managed to capture a 62% share of the online industry and is now the third largest real estate agent in the UK in just under two years. At the moment they cover around 5% of the entire real estate market with experts predicting coverage of at least 50% by 2020. They plan to open offices in Australia before the end of 2016.
The verdict
The importance of a real estate agent as an intermediary is reflected in the numbers, both in Australia and in the UK. Excluding off market transfers, agents generally sell between 90% and 95% of all residential properties in Australia – and this probably won't change any time soon.
While Australia has plenty of for sale by owner websites, most are too small to be of real significance. However, the emergence of the hybrid real estate model in Australia may shake things up a little in all areas.
If you have extensive real estate experience and don't need the extra services of an agent, for sale by owner might be for you. For the rest, it can't hurt to contact a couple of agents in addition to exploring for sale by owner options.
How to find an agent worth their commission cheque
You might hate paying agent fees. But that doesn't mean it's always a good idea to sell your home yourself. As we mentioned earlier, working without an agent means you could end up selling your home for a lot less.
Instead, you should find a great agent whose value exceeds their commission cheque. They should be committed to getting you the best sale price possible.
We've offered tips for how to find a good agent in our guide to preparing your home for sale. At a minimum, you should meet with an agent in person and find out about:
Their experience
Current listings
Number of homes sold last year
Average time it takes them to sell a home
The difference between asking and sales prices of homes they've sold
How they would market your property
References
A quick look at Australia's for sale by owner market
If you plan on selling your home yourself, there are plenty of websites to help make your job easier. All 12 websites include options to list on realestate.com.au. If you'd like to advertise on Domain, be prepared to pay more.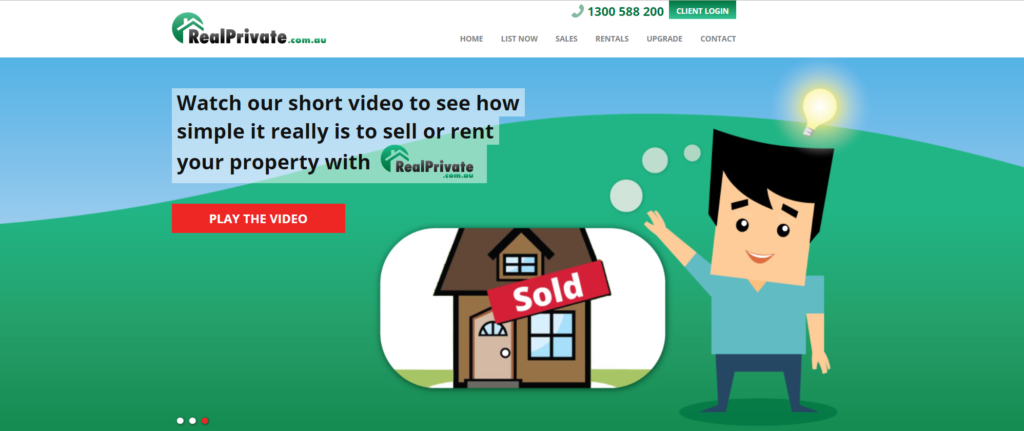 Real Private "aims to provide our clients with all the benefits of a traditional full service agency. The internet has become virtually the only property search method used by potential buyers and we believe that with some assistance from the owner, the cost for selling your home can be reduced by 95%." They say that they are able to be cheaper than all of their competitors by providing everything a traditional real estate does other than conducting inspections.
It offers two ways to pay . Both include listings on the main Australian real estate websites and up to 25 photos online.
From $399 until your property sells
$199 a month
You can also pay extra for additional services like photography and home brochures. Listing your property on Domain.com also attracts an additional cost.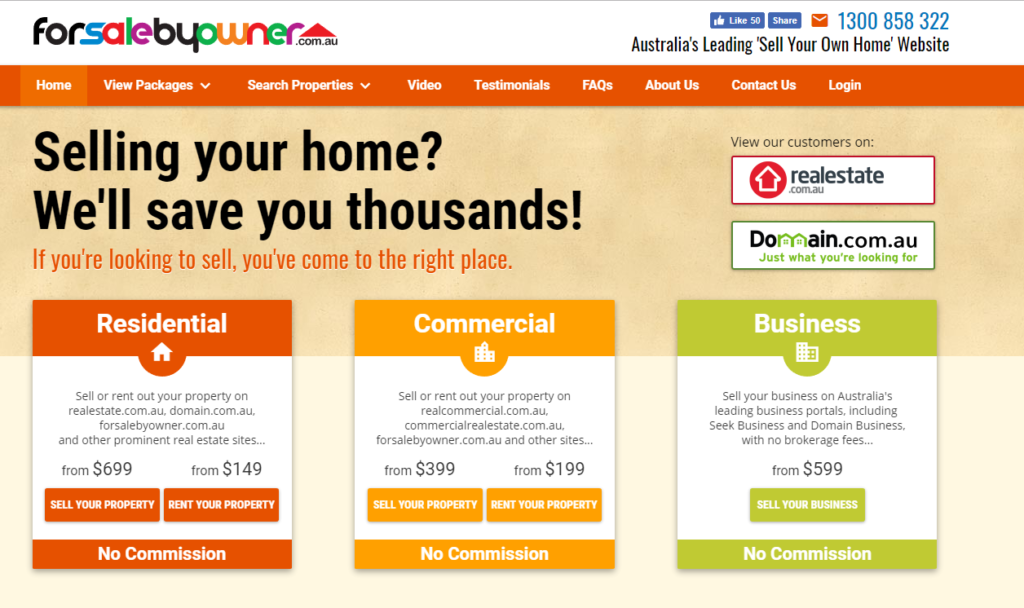 For Sale By Owner says it: "helps you to sell your property yourself without incurring the high commission normally associated with the sale of a property. We give you access to tools that were previously only available to traditional estate agents."
The website offers a Sell My House package which costs $699 (excludes 1200 x 900 photo board) or $969 (includes 1200 x 900 photo board). The package includes:
Listing on realestate.com.au, domain.com.au and other portals
For sale sign
Three property reports and weekly campaign reports
Printable brochure
Phone support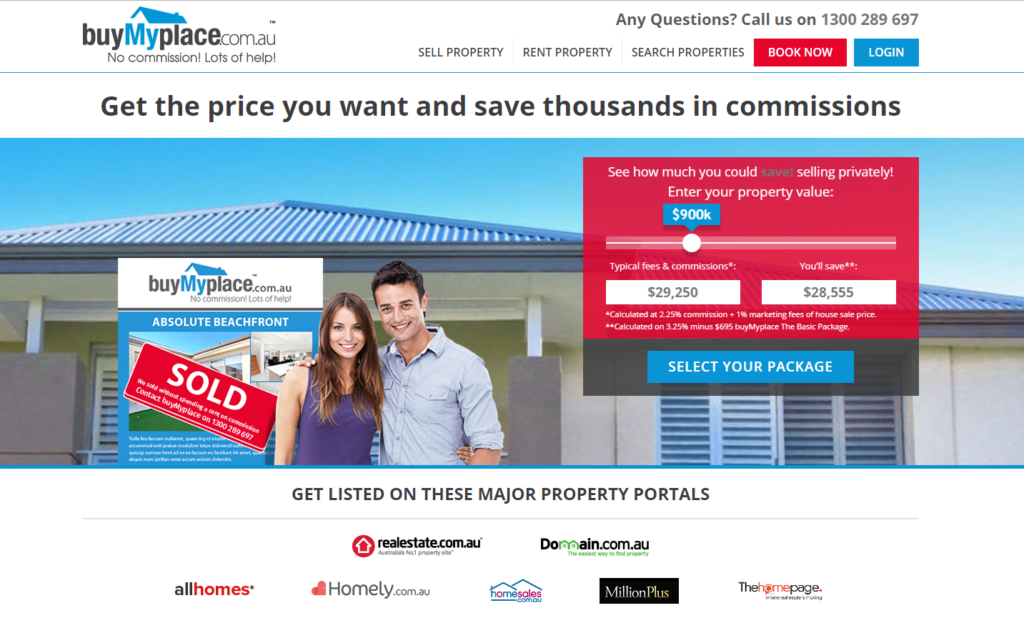 buyMyplace claims to be Australia's leading online for sale by owner real estate marketing and advertising service.
Packages start at $695 and include:
Listing on all major real estate websites
Professionally installed for sale sign
12 photo spots for online listings (premium packages include professional photos)
Printable brochures
Free home value estimate report
Automatic email forwarding
You also have the option to sell via auction for $895 in conjunction with any package. The prices listed are for metro areas only -selling in rural areas may be more expensive.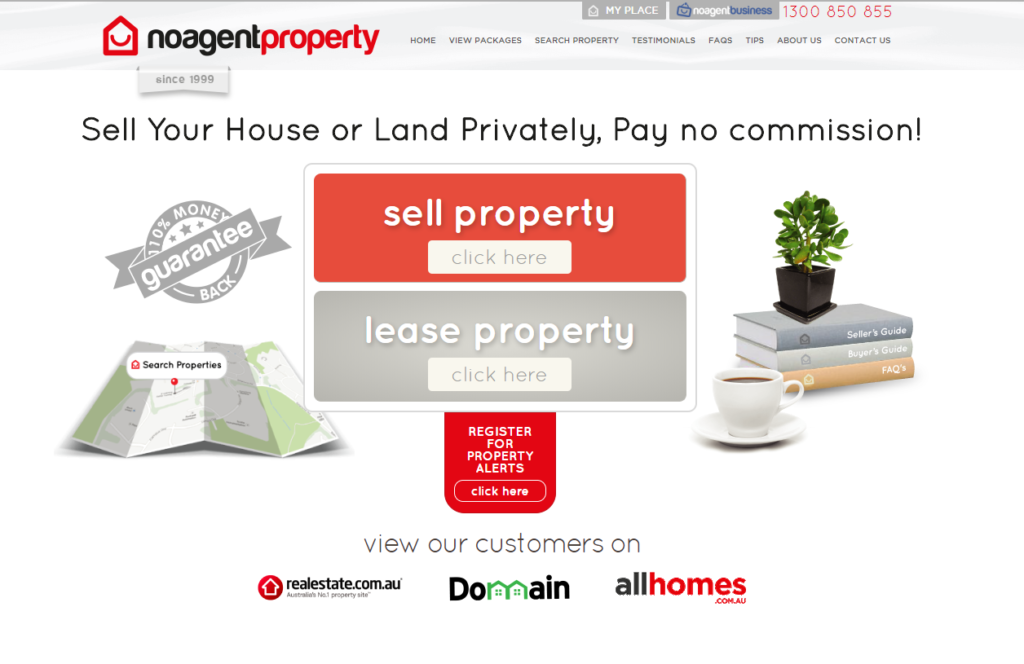 No Agent Property claims to be "the longest running website in Australia that helps owners sell their properties without paying commission to real estate agents, and it is one of the largest." It offers two packages:
Premium ($675) – Listing on its website, for sale sign, 20 photos with every listing, guide to selling your home, email alerts, reports, RP Data property reports, online account manager and customer support
Ultimate ($965) – Same as premium, plus listing on Juwai.com, a Chinese property portal, and social media exposure.
There is also the option to create a custom package to suit your particular needs.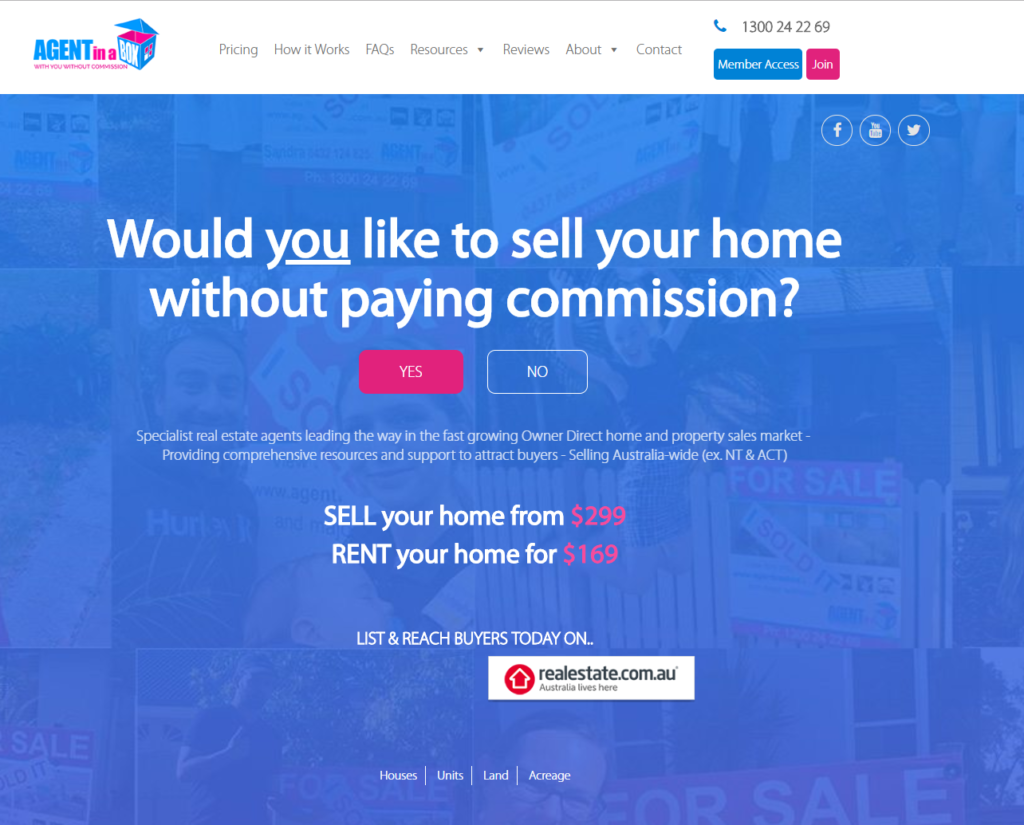 Agent in a Box says it is "Australia's most exciting, low cost and simple to use marketing, knowledge and support hub, designed to enable you, the Home Owners of Australia, to reach all buyers and sell your own property privately without paying commission."
It has three packages:
Web Essentials ($299) – List your property on realestate.com.au and domain.com.au
Premium ($499) – Everything in Web Essentials, plus list your property on other Australian property portals, a For Sale sign and a social media campaign
Ultimate ($699) – Everything in Premium, plus listing on juwai.com, a brochure and professional proofing and editing of your ad copy.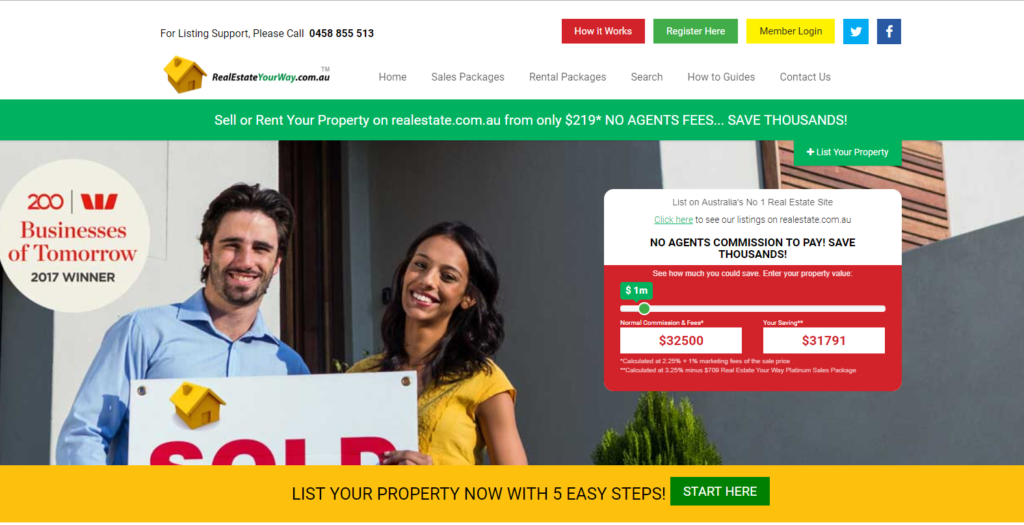 Real Estate Your Way aspires to be the number one online marketplace to sell, buy or rent real estate and property in Australia. It has three packages:
Silver (free) – listing on Real Estate Your Way
Gold ($219) – listing on realestate.com.au
Platinum ($709) – listing on realestate.com.au and Domain, for sale sign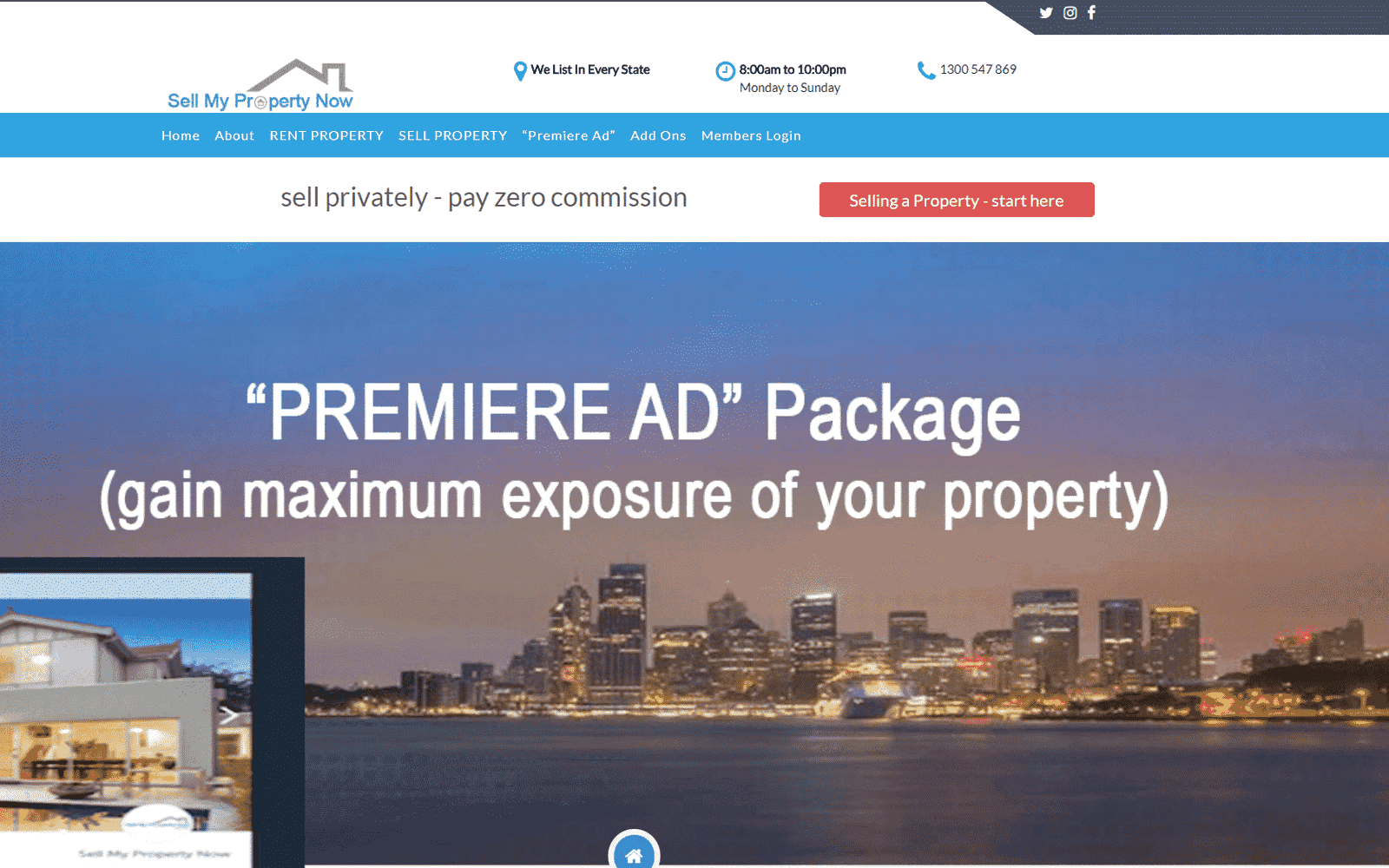 Sell My Property Now "was created to assist vendors who both wanted to save the many thousands of dollars that are required to be paid to traditional real estate agents and who wanted to take control of the sales process of their property as who better knows your home and all its key points than you, the home owner."
It offers two packages:
Classic ($498) – listing on realestate.com.au and domain.com.au, up to 33 photos of your property, 24/7 buyer enquiry phone line service
Premiere Ad (price dependent on postcode) – includes everything in the Classic package as well as a premiere ad on realestate.com.au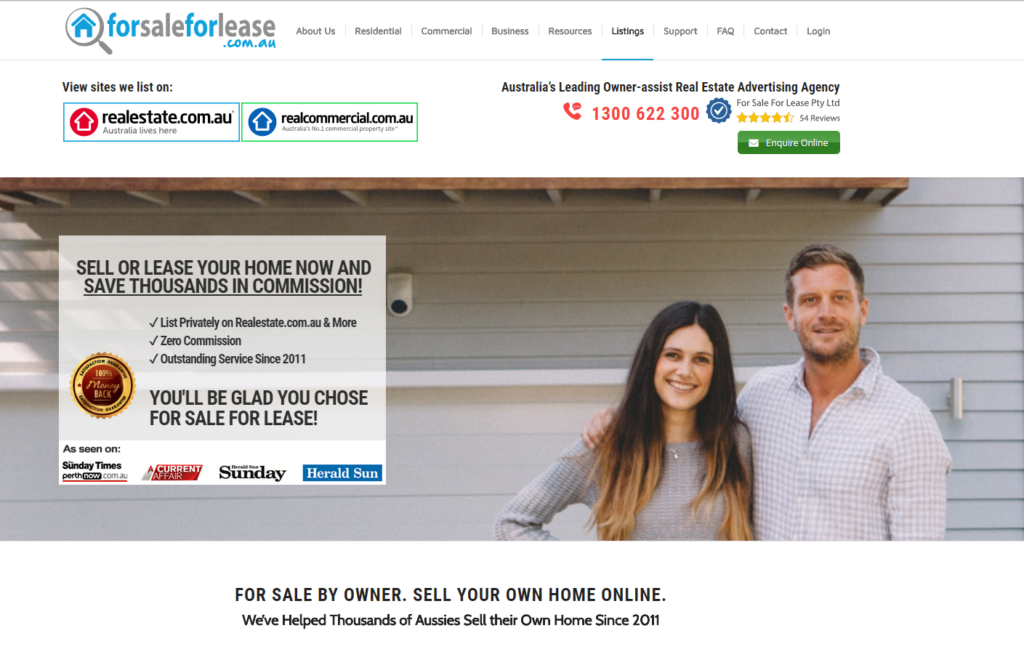 According to For Sale For Lease, the best person to sell your home is you. Anything an agent can do, you can probably do better. It offers two packages, which both include listings on all the major real estate websites (Domain costs extra).
Monthly option – $299, plus $99 per month until sold
Until sold – $695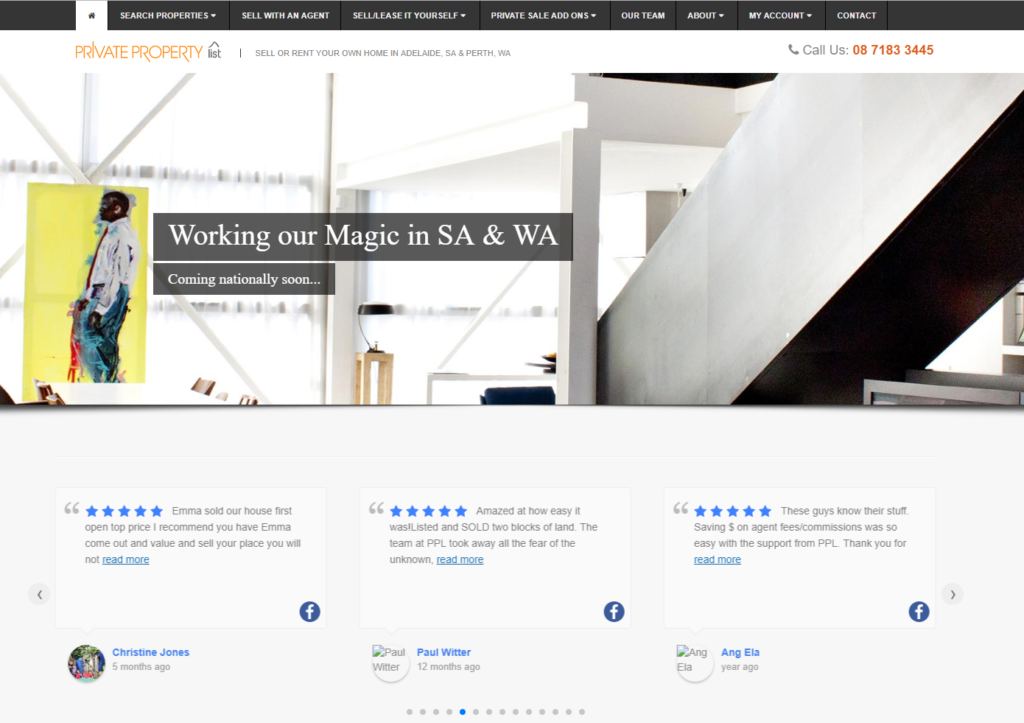 Private Property List offers for sale by owner packages in South Australia and Western Australia.  You can choose from two packages:
Sales package ($649) – suits private sellers looking to list their property for sale online.

Listing on realestate.com.au and other portals
For sale sign
Unlimited support
Weekly report
Core Logic market assessments
Brochure templates

Monthly package ($169) – suits professionals looking to list their property for sale online.

1 month listing on realestate.com.au and other portals
Email forwarding
$99 per month after initial month.
You can also pay for Add Ons like printing of your brochures and different signages.
10. Cubbi – no longer offers selling packages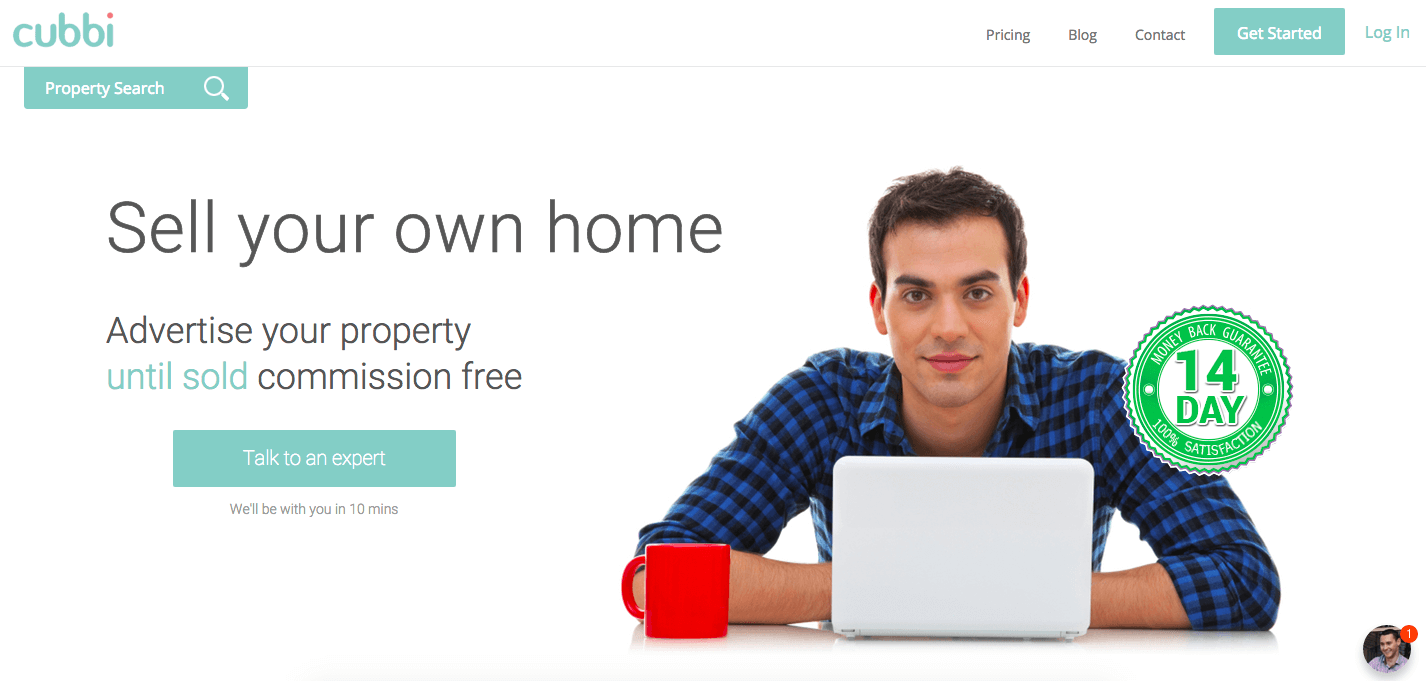 Cubbi is mainly used to help tenants find properties to rent, but it also helps people sell their homes without agents.
Cubbi offers three for sale by owner packages:
Lite ($399 until sold) – Listing on realestate.com.au and Domain, basic support
Professional ($499 until sold) – As above, plus premium support, property valuation reports, discounts on professional photos, for sale sign
Executive ($1599 until sold) – As above, plus speed dial support, 12 professional photos, floor plan, large for sale sign, professional copywriting, upgrade to featured listing and 100 professionally printed brochures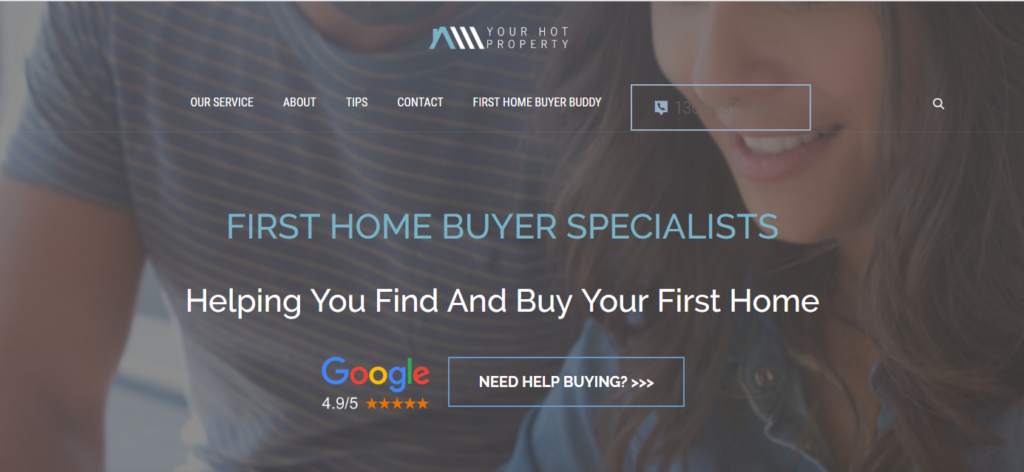 Your Hot Property is for homeowners dissatisfied with traditional real estate agencies and associated high costs. Packages start at $449 to advertise on realestate.com.au and other websites, or $699 to include Domain.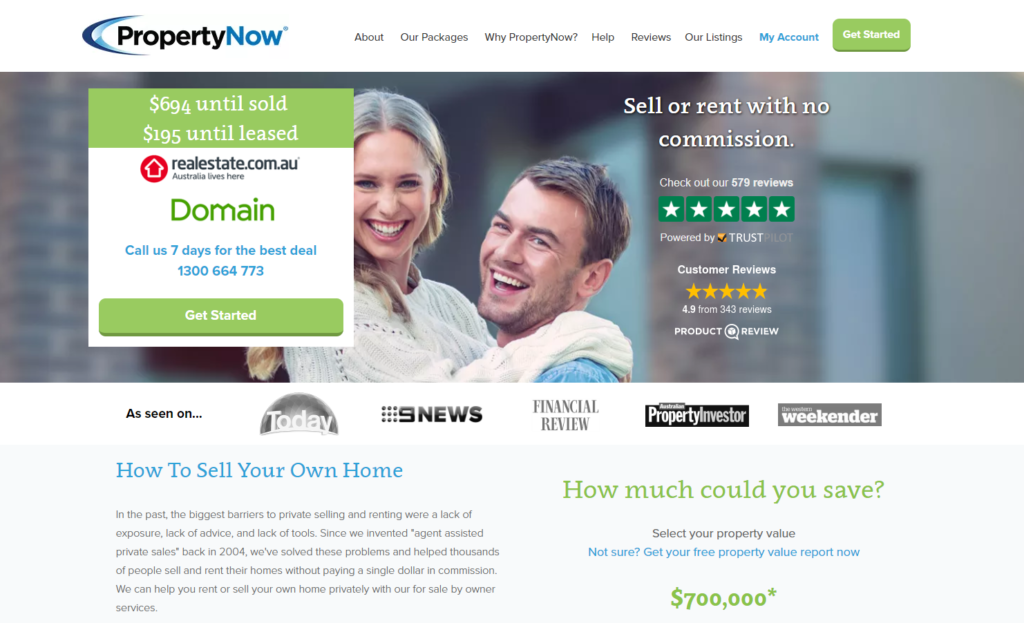 Property Now has a sense of humour. On its homepage, it warns visitors "Don't pay for your real estate agent's new Lexus! You're not a charity! Sell your own home with no commission on realestate.com.au."
Property Now charges a flat fee of $694 for all residential, land and rural property sales. This fee includes:
Advertising on realestate.com.au and others
Unlimited support
For sale sign
Email forwarding
Printable brochures
Access to a members' only guide to selling
There are also a selection of available add-ons such as glossy flyers and professional photography.
Conclusion
There is obviously an emerging market for services which help owners sell their own property and it could save you some money when selling a property. However, there's a reason why only about 1% of vendors in Australia opt to sell their home without a real estate agent. When you pay for a real estate agent, you're paying for expert local knowledge, support from an actual person, marketing help and so much more. You're also paying for someone else to do it all for you, freeing up your time to do things that are much more interesting! Top real estate agents will work hard to get you the best price for your property. Which Real Estate Agent makes finding top real estate agents in your area simple – we've already done the research for you!
Looking for a good real estate agent? Find out who are the top individual agents in your suburb with our free real estate agent report.
Frequently Asked Questions
Selling without an agent may save you money in the short-term, but you may lose money by undervaluing the property yourself. A real estate agent provides the expertise and know-how to give you an accurate property valuation; as well as the marketing and advertising you need to sell your property for the best possible price. It is normally recommended to seek obligation free advice from a top local real estate agent before selling your own property privately.
Only 5-10% of the properties sold in Australia are sold without a real estate agent. Properties sold privately generally sit on the market longer than those marketed by a real estate agent.