Australia's property valuation sites put to the test
We've tested the most popular valuation sites on the market so you don't have to. If you want to see our detailed results, see below.
While they provide some useful information, the best way to get an accurate, up-to-date price guide for your property is to talk to local real estate agents.
If you're concerned about getting impartial advice, you should consider getting valuations from 2 or 3 local agents.
Table of Contents
Things have changed in the real estate market.
A lot!
A few years ago, if you wanted to answer the question "What's the value of my property?" you had to get a professional to value it.
They:
visited your home
compared it to recent sales in the area
manually derived an estimate
Today?
It's a different story.
The rise of DIY property valuation websites has made it easier than ever to find out how much your house is worth.
Real estate agent appraisals are increasingly challenged by vendors armed with price estimates and comparable sales data sourced online.
But are the online, do-it-yourself property estimates consistent? And do their valuations accurately reflect sale prices?
We agree you can never be armed with too much knowledge when it comes to finding out the true value of your home.
It is important for you to locate all the information you need and we promise to guide you through the various websites available.
Are you ready to put the top online property valuation websites to the test?
So here they are:
Domain
On The House (OTH)
realAs
CoreLogic
realestate.com.au (REA)
Note:
CoreLogic provides the same price estimate on its website, propertyvalue.com.au, as on partner REA's website. For this reason, we have bundled the two together as CoreLogic/REA.
Summary of Australia's property valuation websites
Here's a brief overview of the websites we've discussed in this article, plus a few extras.
Did you know?
Some, such as Domain, REA, and OTH provide an estimate without asking for personal information.
Here is something else to keep in mind:
Others request contact information or payment in exchange for a more accurate estimate.
Domain's Home Price Guide launched recently and parent company Fairfax have promoted the website extensively.
Home Price Guide provides an estimated value for the searched property.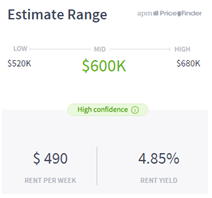 What's included:
A price estimate range and level of confidence in estimate provided
Estimate of rent per week and calculation of rental yield
Recent sales and rental history, including sold price, date and days on market
Similar properties for sale and for rent in the area
List of schools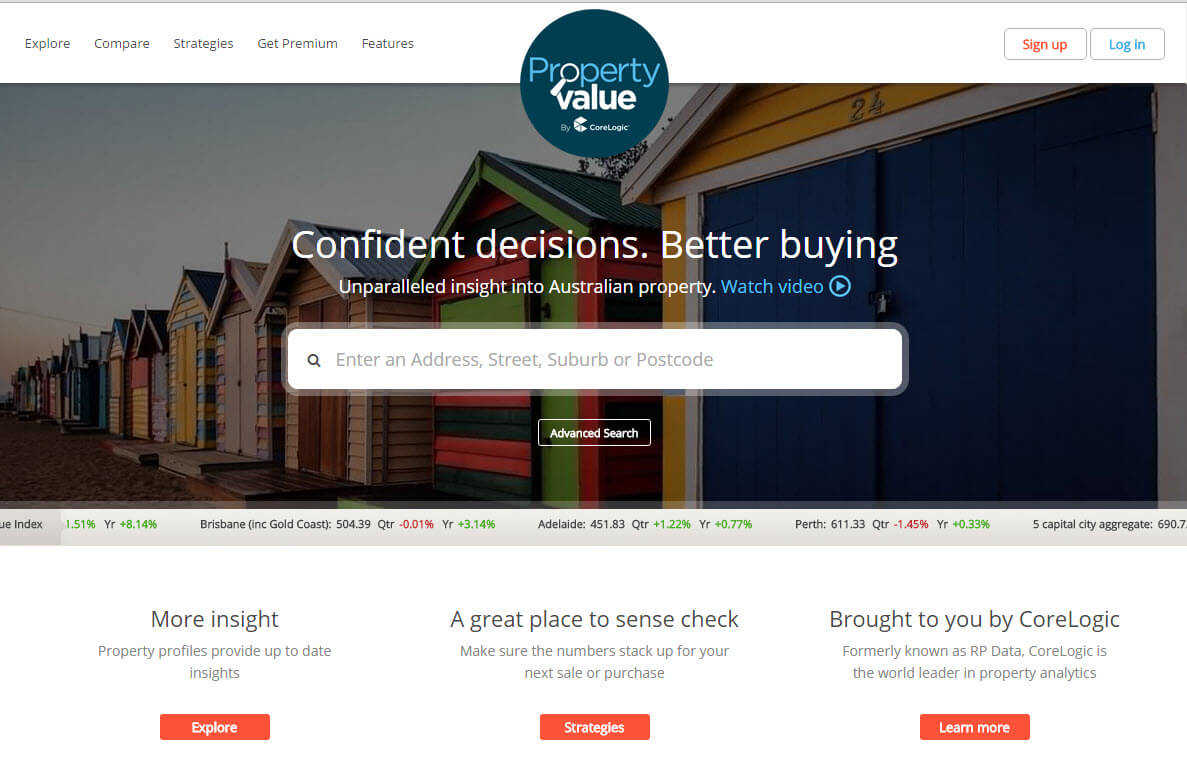 Property Value is CoreLogic's (formerly RP Data) publicly available property price estimation tool. It also has subscription price estimate tools, which we did not analyse. The publicly available estimate looks like: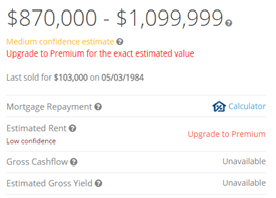 What's included:
Price range and level of confidence
Users urged to upgrade ($49 for one week access) to view exact estimated value and other insights such as estimated rent, pros and cons of property and investment strategy scores
Comparable properties for sale, recently sold and for rent – must upgrade to see more
Market trends, auction results and demographic information also provided.
Realestate.com has two price estimation tools.
They are:
the property price estimation tool (discussed below)
The estimate is a range provided on properties currently not for sales and is sourced from CoreLogic.
What's included:
Price range and level of confidence
Comparable properties for sale, recently sold and for rent
Market trends, nearby schools and demographic information.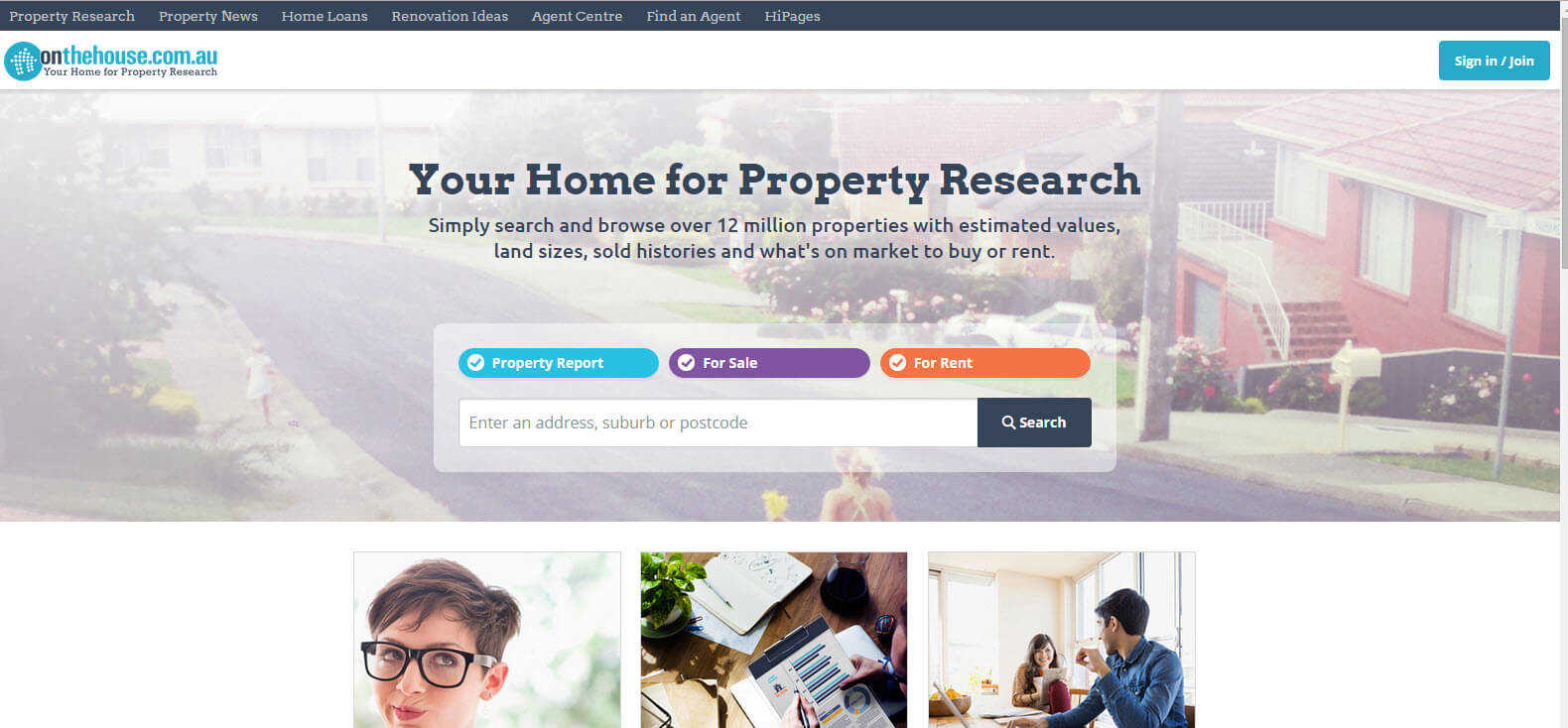 OTH was one of the first websites to provide free, online property price estimates. It uses data sourced from government and real estate agents.
The calculated estimate looks like this: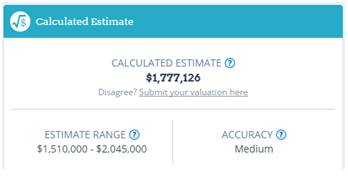 What's included:
Estimated property value, along with range and level of accuracy
Property features
Lists similar properties sold and for sale
Ability to be emailed free monthly property updates
RealAs helps buyers assess how much to pay for properties currently for sale. It claims that 90 percent of its property valuations are within 10 percent of the final sale price.
How does it work?
After you enter in an address it will:
Provide the agent's quote, or if unavailable you will be requested to enter it
Ask you to register to receive the realAs prediction – see below

After you register, you can see realAs' prediction.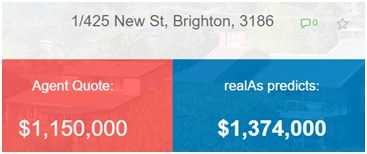 What's included:
Agent quote
Price estimate once signed in
Buyer-focused property portal, which leverages information from other users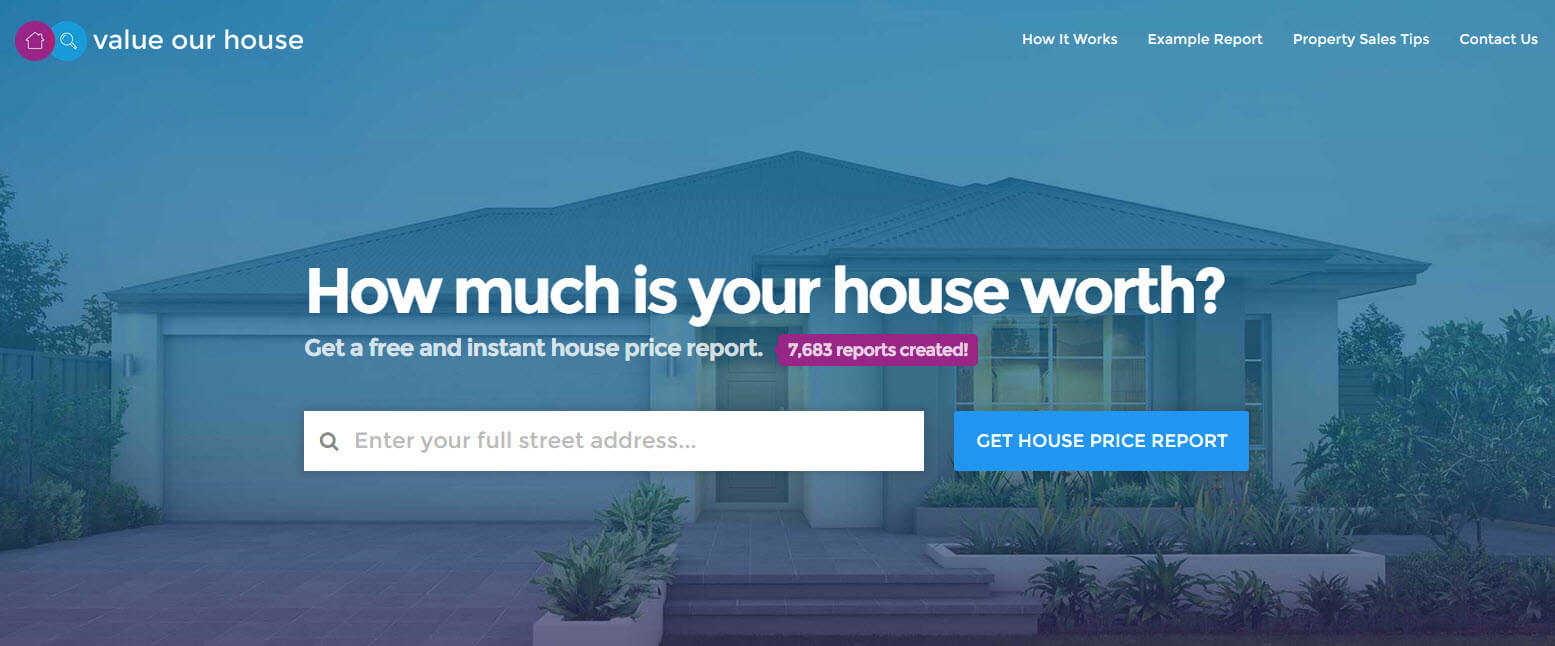 Value Our House is a private company that sources information online to provide house price estimates.
How do you use it?
After entering an address on the homepage you need to provide property information and full contact details to see the house value estimate: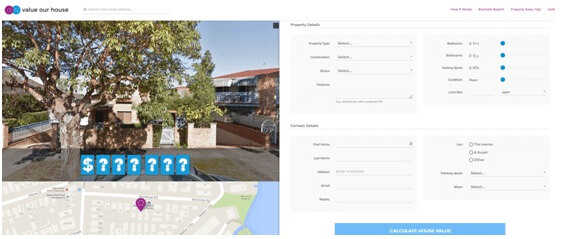 What's included:
Need to submit contact details to access estimated property value
Includes market information like annual growth, median price, median rent and rental yield
Offers free consultation and selling plans by request
Provides property market data by suburb.
Other property valuation tools and methods

Realestate.com.au has another property valuation tool located at property.value.realestate.com.au. It gives homeowners a free property report and arranges a price estimate from a local agent.
Be advised:
It does not provide an instant price estimate.
What's included:
Need to submit contact details to access report
Doesn't provide an immediate estimated value
Shows list of similar properties recently sold
Arranges for a local agent to provide valuation estimate.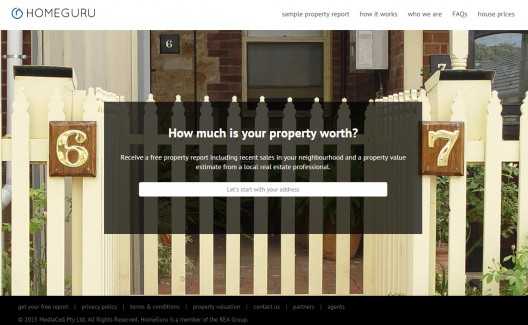 Homeguru is also owned by realestate.com.au. It operates in a similar fashion to property.value.realestate.com.au.
After entering in an address, the user is prompted with a series of screens asking for more information about the property (beds, baths, condition, etc.) and their contact details.
What does it do?
The user receives an email explaining that a real estate agent has been provided with their details and will be in touch to provide an estimate. The email links to a page that includes comparable sales sourced from realestate.com.au and RP Data (now CoreLogic).
What's included:
An introduction to a local agent
Comparable sales
Local area data like demographics, average income and interest rate history
Licensed valuers
Homeowners can appoint a licensed valuer to appraise their property after a physical inspection. They base their property valuations on a detailed assessment of the property and recent market sales.
And don't forget:
They are legally responsible for the information they provide.
Real estate agents
Real estate agents provide price estimates after they have inspected the property and evaluated recent sales in the area.
Because they actually see the property and have knowledge of similar properties in the area, they are able to make far more accurate estimates of your property's value than online property valuation websites.
Which Real Estate Agent will help you find top real estate agents in your area so you can get the valuations you need.
Which website provides you with the most accurate property valuation?
For starters:
We calculated estimates for 214 recently sold properties using all five property valuation websites.
Then:
We compared those estimates to actual sale prices.
Each property was sold between 6 and 12 November 2015.
As a reference:
All sale prices were displayed on realestate.com.au and properties were sourced from each Australian state and territory, mostly from capital cities.
In a nutshell:
They broadly reflected Australia's population footprint.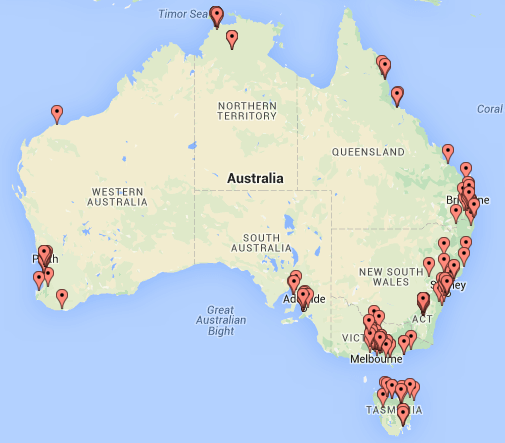 The results
This may surprise you!
Each property estimate website was reasonably accurate at assessing the portfolio of properties. Average variances between the estimate and the recent sale price ranged from 6% to 15%.
While realAs was the most accurate on average, we observed some discrepancies at an individual property level across all websites.
But, does it matter?
Unless you're a big property investor, the average is all you really care about.
Here's how the websites ranked, from most accurate to least accurate:
realAs
CoreLogic/REA
Domain
On The House
Missing data
We found that 13% to 25% of the 214 properties searched returned no data at all. They either had no estimate or no sale price.
Significant variations
What did we find?
53 results across all websites had variances greater than 30% of the sale price.
Domain and OTH were the worst offenders. They each had 19 properties with variances greater than 30% of the sale price.
Estimate accuracy to sold price

Sample information


*See limitations section below
Given the number and size of some of the outliers, we re-ran the findings to see if the order of website accuracy changed when outliers greater than 50% of the sale price were excluded.
Get this!
We got rid of 27 properties in total.
Here's another interesting thing:
We found that while the average variances dropped, the accuracy ranking remained similar.
The adjusted average variances for each site are as follows:
realAs – 5%
Domain – 6%
CoreLogic/REA – 7%
On The House – 7%
What do these findings mean for property owners?
For the majority of property owners, these websites give a broad indication of how much their home is worth today.
But remember this:
These are relatively new tools.
As they fine-tune their algorithms and expand their data sources, they will become more accurate.
realAs
realAs is one step ahead of its competitors.
What sets it apart?
It sources price information from buyers, rather than relying on property features and recent market data like its competitors.
And even better:
This appears to lead to more accurate estimates and with fewer outliers. realAs recorded the closest average price forecasts, with smaller maximum variances across the properties evaluated.
OTH
OTH appears to be the most comprehensive of the price estimate tools, returning estimates for 87% of all properties searched.
And one more thing:
While it had a median average variance of 4%, it also had big discrepancies as well: +466% and -89%.
Domain
Newcomer Domain, backed by its APM and PriceFinder smarts, had the lowest median variance, but also returned the most amount of outliers.
CoreLogic
Lastly:
Much to our surprise, CoreLogic didn't reign supreme.
It is widely considered to have the largest data set, and its property price indices are industry leading.
This may be due to:
the particular sample analysed
how frequently it updates its estimates to reflect recent sales
For a breakdown of the estimates for each property, scroll to the end of the article.
Keep in mind:
These estimates were collected mid-November 2015, and may have changed since.
An overview of the facts to assist you
If you want to know what your home is worth, these websites aren't a bad place to start. Visit a few and see what they come up with.
As realAs provides estimates for properties currently on the market, it may be of limited use to homeowners seeking an estimate before selling.
While a cursory check can't hurt, we suggest you do not rely on them.
In all honesty:
If you're seriously thinking about selling, we advise you to do your own research.
You should:
Be realistic about how they compare to your property
Adopt the mindset of a potential buyer and not an adoring homeowner
You might also want to seek the opinion of a licensed valuer, or request an appraisal from a couple of quality local agents.
Understand the limitations for more accurate valuations
As we compared price estimates to recent sales, you would expect the variances to be low, as they have current market data to benchmark their estimates. Therefore: this analysis assumes the best case scenario. We suspect that if we repeated the process with properties that hadn't sold in the last three years or more, then the variances would be significantly greater. Interesting, right? In reality: we adopted our approach due to the availability of the sale price data and also to include realAs in the analysis, which focuses on providing estimates for properties recently and currently on the market.
The speed at which a website updates its price estimates would impact the variances observed. By the way: we calculated the estimate shortly after the property was sold.
At 214 properties the sample size is considerable. But: given there are millions of properties in Australia, it is relatively small and the conclusions drawn should not be relied upon.
If the property was for sale or sold, Domain and OTH noted this (54 and 27 times respectively) and no estimate was provided. This explains their lower number of properties with estimates. However: CoreLogic's property value website provided an estimate, even if the property was for sale or recently sold. Realestate.com.au/property website (not shown in the analysis but listed below) only provides an estimate if the property isn't for sale.
Conclusion
As you can see, property valuation sites tend to be inaccurate but can provide an idea of your property's value and provide a valuable resource to homeowners when selling your home. However, they're never going to be able to be as accurate as a real estate agent with years of local knowledge and sales under their belt.
But, even in this modern age, a computer algorithm isn't going to beat human knowledge. We recommend finding top agents in your area to give you valuations on your property – the money you might save on free valuations might be money you lose if the estimate isn't a good one.
Compare and contrast the 214 properties analysed for a better understanding
Remember:
These percentage variances were calculated from estimates provided by the respective website during mid-November 2015. They may have changed since, as new market data comes to hand.
| | | | | | |
| --- | --- | --- | --- | --- | --- |
| Property | Sale price | Domain | On The House | realAs | CoreLogic/REA |
| 145 Bay Street Rockdale NSW 2216 | 1,025,000 | -14% | 5% | 16% | -4% |
| 20 Cannan Close Cherrybrook NSW 2126 | 1,910,000 | | -1% | | 3% |
| 178 North Rocks Road North Rocks NSW 2151 | 1,012,000 | 1% | | 10% | -3% |
| 1 Trefusis Avenue Mudgee NSW 2850 | 382,000 | -17% | 0% | 6% | 3% |
| 3/234 Buffalo Road Ryde NSW 2112 | 930,000 | 63% | 2% | 3% | -16% |
| 60 Links Drive Raymond Terrace NSW 2324 | 290,000 | -16% | | 3% | 8% |
| 15 Jillaroo Way Muswellbrook NSW 2333 | 630,000 | | -19% | -4% | |
| 5/21 Endeavour Parade Tweed Heads NSW 2485 | 311,000 | -3% | 2% | 5% | 0% |
| 5 Caley Close Tamworth NSW 2340 | 245,000 | 17% | | 5% | -3% |
| 7 Orchard Place Ingleburn NSW 2565 | 720,000 | | 0% | -8% | -14% |
| 143 Mansfield Street Rozelle NSW 2039 | 1,340,000 | -7% | | | -8% |
| 2/4-6 Campbell Parade Dee Why NSW 2099 | 517,500 | 5% | | 8% | |
| 20 Gearon Avenue Rowville Vic 3178 | 650,000 | | | 2% | -5% |
| 6 Shipp Street Bendigo Vic 3550 | 360,000 | -24% | | -6% | -13% |
| 25 Holmes Road Paradise Beach Vic 3851 | 49,500 | | 466% | | |
| 16 Raapita Road Toorloo Arm Vic 3909 | 545,000 | | -34% | | |
| 16 Firefly Road Golden Beach Vic 3851 | 45,000 | | 419% | | |
| 37 Cromarty Circuit Darley Vic 3340 | 340,050 | -11% | -39% | 1% | -30% |
| 7 Waratah Drive Dandenong North Vic 3175 | 500,000 | | -14% | -12% | -1% |
| Lot 2 9 Second Avenue Rowville Vic 3178 | 340,000 | 68% | | | |
| 10 Mount View Road Macedon Vic 3440 | 745,000 | | | 8% | |
| 1/38 Narong Road Caulfield North Vic 3161 | 1,200,000 | -33% | -20% | -18% | -18% |
| 12 Hindmarsh Street Rowville Vic 3178 | 625,000 | -13% | | 7% | -1% |
| 25 Hogan Court Kyneton Vic 3444 | 530,000 | | 6% | 13% | |
| 1/53 Shearer Drive Rowville Vic 3178 | 540,000 | | | 1% | -8% |
| 41 Papillon Parade Tarneit Vic 3029 | 510,000 | | -13% | 10% | -23% |
| 2/30 Ashley Street West Footscray Vic 3012 | 325,000 | 2% | | | |
| LOT 113 Bells Street Woody Point Qld 4019 | 629,000 | | | | |
| 4/20 Anchorage Circuit Twin Waters Qld 4564 | 540,000 | -8% | | -5% | -8% |
| 12 Bayview Terrace Deception Bay Qld 4508 | 455,000 | | -34% | | |
| 15 Hill Avenue Burleigh Heads Qld 4220 | 1,115,000 | -3% | | -7% | 11% |
| 42 Strombus Avenue Trinity Beach Qld 4879 | 500,000 | -1% | | 4% | -1% |
| L6/455 Brunswick Street Fortitude Valley… | 260,000 | | | | |
| 70 Albert Street Margate Qld 4019 | 340,000 | -2% | 6% | 2% | -8% |
| 3 Clarendon Circuit Forest Lake Qld 4078 | 328,000 | 1% | | 1% | -5% |
| 254 Robert Road Bentley Park Qld 4869 | 390,000 | 4% | | 5% | 1% |
| 6 Rosslyn Close Clinton Qld 4680 | 260,000 | 28% | | 20% | 20% |
| 47 Auburn Street Caloundra West Qld 4551 | 435,000 | 2% | | -5% | |
| 41 Sunridge Circuit Bahrs Scrub Qld 4207 | 590,000 | -34% | | | 5% |
| 38 Cardiff Gate Iluka WA 6028 | 767,500 | -5% | 2% | 0% | 2% |
| 586 Mount Shadforth Road Denmark WA 6333 | 925,000 | | | | |
| 3 Boxall Place Churchlands WA 6018 | 1,380,000 | | -1% | 17% | 12% |
| 12C Elward Way Balga WA 6061 | 395,000 | 8% | -89% | 1% | 0% |
| 13 Pelican Parade Ballajura WA 6066 | 580,000 | -6% | -10% | 8% | 7% |
| 449A Crawford Road Dianella WA 6059 | 695,000 | | -3% | -3% | 12% |
| 4 Lawrence Street Kadina SA 5554 | 182,000 | | | | |
| Lot 443 Lawton Cres Woodville West SA 5011 | 480,000 | | | | |
| Lot 80 Borehamwood Road Mount Torrens SA 5244 | 525,000 | | | | |
| 6 King Street Norwood SA 5067 | 695,000 | 5% | | | |
| 2 Seppings Court Flagstaff Hill SA 5159 | 505,000 | -7% | -1% | 1% | -2% |
| 1 Chilcomb Drive Huntfield Heights SA 5163 | 244,500 | 11% | 9% | -3% | 28% |
| 3 Parallel Avenue Salisbury North SA 5108 | 169,000 | | 6% | 11% | 4% |
| 2/16 Craddock Street Broadview SA 5083 | 335,000 | | -5% | 7% | -7% |
| 7 Spinnaker Court Wallaroo SA 5556 | 520,000 | | | 23% | |
| 4 Amy Road Newstead Tas 7250 | 233,000 | 30% | | -4% | 2% |
| 8 Avondale Grove Mount Nelson Tas 7007 | 428,000 | 16% | | 0% | -8% |
| 130 Watkinson Street Devonport Tas 7310 | 200,001 | | 10% | -4% | 19% |
| 1/49 Richings Drive Youngtown Tas 7249 | 300,000 | -9% | | 11% | -21% |
| Unit 1/Lot 19 Relbia Road Relbia Tas 7258 | 280,000 | 3% | | | |
| 8 Woniora Road (North) Shorewell Park Tas 7320 | 175,000 | 56% | | | |
| 6 Alfred Street Pioneer Tas 7264 | 148,000 | | | | 18% |
| 49 Station Road Lilydale Tas 7268 | 172,500 | | 26% | 3% | 1% |
| 7 Blackstone dr Old Beach Tas 7017 | 380,000 | -4% | | -1% | 4% |
| 5 Waine Place Nicholls ACT 2913 | 700,000 | -5% | -3% | -5% | 11% |
| 3 Southam Place Holt ACT 2615 | 535,000 | 7% | | -20% | -26% |
| 6 Tong Place Kambah ACT 2902 | 625,000 | -4% | -14% | -4% | -1% |
| 3 & 3A Toms Crescent Ainslie ACT 2602 | 1,370,000 | -54% | | | |
| 4 Reader Court Banks ACT 2906 | 415,000 | -7% | | | |
| 111/74 Northbourne Avenue Braddon ACT 2612 | 423,000 | 0% | 1% | 3% | 17% |
| 12 Langlands Close Calwell ACT 2905 | 350,000 | | 10% | 5% | 13% |
| 19 Thomson Street Chifley ACT 2606 | 815,000 | -15% | -9% | -7% | -4% |
| 27 Andamooka Street Fisher ACT 2611 | 850,000 | | -6% | -8% | |
| 24/3 Waddell Place Curtin ACT 2605 | 250,000 | | 17% | | |
| 1507/240 Bunda Street City ACT 2601 | 755,000 | -28% | -41% | -1% | |
| 9 Kinnimo Place Isabella Plains ACT 2905 | 637,000 | -19% | -7% | -9% | -3% |
| 20 Petherick Street Franklin ACT 2913 | 392,500 | | -3% | -1% | 26% |
| 36 Battersby Circuit Kambah ACT 2902 | 517,400 | 0% | -5% | -4% | -4% |
| 3/2 Sexton Street Cook ACT 2614 | 512,500 | -3% | -2% | 4% | -3% |
| 22 Mcdonald Street Chifley ACT 2606 | 675,000 | -11% | 2% | -1% | -8% |
| 12 Callabonna Street Kaleen ACT 2617 | 700,000 | -5% | 0% | -1% | -11% |
| 6 Ashburton Way Gunn NT 0832 | 538,000 | 6% | 2% | 6% | 15% |
| Unit 3/6 Kirkpatrick Street Katherine NT 0850 | 217,000 | | | | |
| 5 Callanan Court Katherine NT 0850 | 460,000 | | | 0% | 8% |
| 6 Coburg Drive Leanyer NT 0812 | 665,000 | 0% | -10% | 4% | -7% |
| 20 O'Brien Court Driver NT 0830 | 530,000 | | -8% | | -7% |
| 26 Pett Street Alawa NT 0810 | 561,000 | 2% | 6% | 1% | 11% |
| 65 Maluka Road Katherine NT 0850 | 297,000 | 30% | | 37% | 33% |
| 3 Copperfield Crescent Anula NT 0812 | 480,000 | 25% | 13% | 14% | 3% |
| 95 William Road Berry Springs NT 0838 | 700,000 | | -24% | 2% | 11% |
| 18 Milady Street Wagait Beach NT 0822 | 350,000 | | -18% | -9% | 13% |
| 165 McMinns Drive McMinns Lagoon NT 0822 | 563,000 | | 93% | -1% | 10% |
| 18 Wandie Cres Anula NT 0812 | 453,000 | | 17% | 26% | 9% |
| 6/17 Undoolya Street Tiwi NT 0810 | 405,000 | | 3% | 16% | -2% |
| 5 Bradhurst Court Bayview NT 0820 | 1,750,000 | | -30% | 5% | 12% |
| 15 Bellevue Avenue Lismore Heights NSW 2480 | 299,000 | 1% | 3% | 4% | 5% |
| 18 Greygums Road Cranebrook NSW 2749 | 510,000 | 1% | | 3% | -3% |
| 15 Alisa Close Lake Haven NSW 2263 | 608,000 | -6% | -23% | 0% | 2% |
| 63 Goodhope Street Paddington NSW 2021 | 2,170,000 | -23% | -16% | -73% | -10% |
| 3/14 Memorial Drive The Hill NSW 2300 | 725,000 | -25% | 5% | 1% | 8% |
| 36 Josephine Boulevard Harrington NSW 2427 | 405,000 | 15% | 4% | 5% | |
| 10 Woodlands Avenue Lugarno NSW 2210 | 1,055,000 | 7% | 19% | 12% | 17% |
| 36/143-149 Corrimal Street Wollongong NSW 2500 | 620,000 | 7% | 6% | 0% | 0% |
| 206/10 Vineyard Way Breakfast Point NSW 2137 | 1,025,000 | 0% | -13% | 1% | -4% |
| 31 Leith Road Montrose Vic 3765 | 820,000 | -37% | -8% | -12% | -40% |
| 32 Isabella Boulevard Korumburra Vic 3950 | 405,000 | -29% | 3% | 4% | -41% |
| 13 Diana Drive Werribee Vic 3030 | 395,000 | 13% | 0% | 12% | 0% |
| 47 Watson Street Wallan Vic 3756 | 340,000 | -2% | 7% | -2% | -8% |
| 3 Latrobe Street Cranbourne Vic 3977 | 316,000 | 5% | 1% | -2% | -1% |
| 255 Hogan Street Tatura Vic 3616 | 340,000 | | -4% | 2% | -8% |
| 45 Gipps Crescent Cranbourne North Vic 3977 | 342,500 | 2% | 0% | -7% | -9% |
| 3/7 Hancock Street Altona Vic 3018 | 395,000 | | 7% | 6% | -21% |
| 135 Edwards Road Kennington Vic 3550 | 580,000 | -15% | -4% | | 7% |
| 74 GREENSLOPES DRIVE Mooroolbark Vic 3138 | 431,000 | 15% | 5% | | |
| 154 Port Jackson Boulevard Clear Island… | 1,290,000 | | -4% | -3% | -4% |
| 16 Canowie Road Jindalee Qld 4074 | 575,000 | | 1% | 2% | 8% |
| 4/52 Sarawak Avenue Palm Beach Qld 4221 | 317,500 | | -31% | -2% | -2% |
| 747 Sandy Creek Rd Sandy Creek Qld 4515 | 280,000 | | 9% | | |
| 11 Bau Court Stanthorpe Qld 4380 | 345,000 | -12% | | -3% | |
| 1/73 Gorden Street Garbutt Qld 4814 | 160,000 | 64% | 27% | 25% | 9% |
| 1-11 Haigslea-Cemetery Road Haigslea Qld 4306 | 330,000 | | 1% | | |
| 9/85 BIRCH STREET Manunda Qld 4870 | 85,000 | | 4% | | 12% |
| 3 Fronds/33 Nautilus Street Port Douglas… | 465,000 | | | | |
| 1/469-474 Roghan Rd Fitzgibbon Qld 4018 | 299,000 | | 24% | -1% | |
| 7 Portrush Court Tewantin Qld 4565 | 520,000 | -18% | -14% | -2% | -5% |
| 3/33 Harle Street Weston NSW 2326 | 255,000 | | -20% | 2% | -7% |
| 20 Hillside Crescent Epping NSW 2121 | 1,730,000 | 12% | 45% | 10% | 13% |
| 54 Kirby Street Rydalmere NSW 2116 | 1,215,000 | -16% | -10% | -15% | 2% |
| 24 Edward Lane Mittagong NSW 2575 | 890,000 | -47% | -19% | -3% | |
| 8/188-198 Gertrude Street North Gosford NSW… | 455,500 | -7% | -11% | -9% | 9% |
| 6 Renshaw Avenue Auburn NSW 2144 | 1,630,000 | -46% | -6% | -5% | -5% |
| 29 Princess Street Berry NSW 2535 | 900,000 | -19% | -1% | 11% | 9% |
| Lot 1-9 44 River Avenue Echuca Vic 3564 | 246,000 | | 91% | 120% | 152% |
| 1/9 James Street Heidelberg Heights Vic 3081 | 510,000 | -3% | -8% | 6% | 22% |
| 69 Valonia Drive Eltham Vic 3095 | 820,000 | | -18% | | -5% |
| 4/355 Glenferrie Road Malvern Vic 3144 | 598,000 | -13% | -12% | 9% | 4% |
| 29 Lancelot Crescent Lancefield Vic 3435 | 322,000 | -57% | -2% | 13% | -3% |
| 29A Richards Street Coburg Vic 3058 | 426,499 | 179% | 0% | 131% | |
| 1 Selby Street Dallas Vic 3047 | 350,000 | | 1% | -2% | -11% |
| 17/109 Heidelberg Road Clifton Hill Vic 3068 | 323,500 | -2% | 14% | 5% | -3% |
| 28 Secrets Way Mount Martha Vic 3934 | 755,000 | | -19% | 2% | -48% |
| 22 Janson Close Narre Warren South Vic 3805 | 435,000 | -7% | -13% | -7% | 14% |
| 7 Shearers Court Pakenham Vic 3810 | 520,000 | -22% | -8% | -9% | |
| Lot 65 Pepper Crescent Drouin Vic 3818 | 110,000 | -7% | | | |
| 5 Buchanan Street Beenleigh Qld 4207 | 275,000 | 5% | 5% | | 14% |
| 17 Lambros Drive Benowa Qld 4217 | 670,000 | -6% | -5% | -10% | -7% |
| 268/420 Queen Street Brisbane City Qld 4000 | 499,000 | | -3% | -2% | -1% |
| 31 Grevillea Drive Varsity Lakes Qld 4227 | 540,000 | | -23% | 0% | -27% |
| 13 Ellenborough Avenue Ormeau Hills Qld 4208 | 437,000 | 13% | 5% | -1% | -10% |
| 7 Grand View Drive Ocean View Qld 4521 | 748,000 | | | 0% | -17% |
| 38/83 Lindsay Road Buderim Qld 4556 | 370,000 | -10% | -4% | -3% | 7% |
| 3 Linum street Kingston Qld 4114 | 278,500 | -2% | 3% | -4% | |
| Lot 1680 Beagle Street Fitzgibbon Qld 4018 | 349,900 | 34% | | | -32% |
| 6/230 Torquay Terrace Torquay Qld 4655 | 215,000 | 0% | -8% | -2% | |
| Lot 1682 Beagle Street Fitzgibbon Qld 4018 | 349,900 | 34% | | | |
| Lot 287 Pipeline Avenue Peregian Beach Qld… | 455,800 | | | | |
| 6 Henry Lawson Drive Magnetic Island Qld 4819 | 1,310,000 | | | -14% | |
| 152/16 Leeuwin Boulevard West Busselton WA… | 245,000 | | 23% | -4% | 61% |
| 26 Dugald Way Bulgarra WA 6714 | 440,000 | -3% | -4% | 10% | 12% |
| 28 Eyre Street Waikiki WA 6169 | 419,000 | -8% | -7% | 2% | -6% |
| 3 Babylon Bend Landsdale WA 6065 | 580,000 | | 16% | 21% | 7% |
| 68 Edeline Street Spearwood WA 6163 | 592,000 | -4% | -8% | -1% | 5% |
| 15 Sanderling Street Stirling WA 6021 | 760,000 | 16% | 16% | 14% | 3% |
| 32 RICHARDS ROAD Port Broughton SA 5522 | 270,000 | | -5% | 16% | |
| 3 Aloisi Court Woodcroft SA 5162 | 304,000 | 15% | 11% | 9% | |
| 10 Lublin Crescent Hackham West SA 5163 | 235,000 | 0% | -2% | -7% | 1% |
| 128A Tapleys Hill Road Glenelg North SA 5045 | 398,000 | | 33% | 0% | -1% |
| 15 Osterley Terrace Seacliff Park SA 5049 | 461,000 | 1% | -2% | -1% | 34% |
| 99 Wattle Street Fullarton SA 5063 | 800,000 | 0% | 34% | 5% | -3% |
| 8 Curnow Street Davoren Park SA 5113 | 109,000 | 61% | 32% | 5% | 61% |
| 15 Pillinger Drive Fern Tree Tas 7054 | 532,400 | -7% | -21% | -6% | -7% |
| 4D Parnella Drive Stieglitz Tas 7216 | 113,500 | | 193% | | |
| 76 Las Vegas Drive Prospect Vale Tas 7250 | 320,000 | 4% | -9% | -8% | -2% |
| 41 Lachlan Parade Trevallyn Tas 7250 | 220,000 | | 106% | | |
| 3 Correa Place Gagebrook Tas 7030 | 127,000 | 4% | -8% | -7% | 2% |
| 10 Riverdowns Drive Margate Tas 7054 | 330,000 | 17% | 1% | 2% | -5% |
| 2/1 Zenith Court Howrah Tas 7018 | 350,000 | | 1% | 2% | -11% |
| 15 Chester Street Rosebery Tas 7470 | 80,000 | 72% | | -18% | |
| 1/149 Inglis Street Wynyard Tas 7325 | 240,000 | | 18% | 8% | |
| 7 Washington Drive Stony Rise Tas 7310 | 395,000 | | -2% | -3% | 0% |
| 35 Warwick Street Hobart Tas 7000 | 418,000 | -3% | -4% | -7% | -6% |
| 5 McBeath Place Kambah ACT 2902 | 495,000 | | -1% | -2% | 0% |
| 11 Ibis Street Nicholls ACT 2913 | 537,000 | | -2% | 6% | -8% |
| 47 Badenoch Crescent Evatt ACT 2617 | 529,000 | | -5% | 2% | -25% |
| 101 Atherton Street Downer ACT 2602 | 777,000 | | -3% | 3% | 0% |
| 1/26 Longmore Crescent Wanniassa ACT 2903 | 375,000 | | 11% | -6% | 5% |
| 46 Kavel Street Torrens ACT 2607 | 790,000 | | -5% | 2% | -22% |
| 3 Brady Place Garran ACT 2605 | 865,000 | | -3% | 5% | 14% |
| 28 Dunbar Street Fraser ACT 2615 | 565,000 | | 2% | -2% | 10% |
| 25 Deloraine Street Lyons ACT 2606 | 803,000 | | -2% | 6% | -3% |
| 3 Winton Place Holder ACT 2611 | 607,000 | | -14% | -16% | -18% |
| 40 Halfrey Circuit Wanniassa ACT 2903 | 680,000 | | 3% | 1% | -27% |
| 4 Ogilby Crescent Page ACT 2614 | 551,000 | | -1% | -9% | -10% |
| 4/14-16 Yerona Street Prestons NSW 2170 | 532,500 | | -8% | 4% | -7% |
| 1 Ravenswood Rise Bella Vista NSW 2153 | 1,790,000 | 3% | 18% | 12% | -13% |
| 32/46-50 John St Lidcombe NSW 2141 | 648,800 | 7% | 1% | 4% | 20% |
| 24 Moola Road Buff Point NSW 2262 | 382,500 | 6% | -1% | 6% | |
| 2/79 Queenscliff Road Queenscliff NSW 2096 | 893,500 | 9% | 10% | 3% | -13% |
| 7/7 Curzon Street Ryde NSW 2112 | 455,000 | -7% | 14% | -1% | 9% |
| Lot 33 1 Chamberlain Rd Lisarow NSW 2250 | 325,000 | | | | |
| 27 Edgar Street Frederickton NSW 2440 | 319,000 | | -5% | 0% | -2% |
| Lot 67 Pepper Crescent Drouin Vic 3818 | 115,000 | -11% | | | |
| 8 Achillea Close Corio Vic 3214 | 343,000 | 2% | -1% | 1% | -9% |
| 48 Giles Street Mirboo North Vic 3871 | 115,000 | | 177% | | |
| 33 Peacock Street Mirboo North Vic 3871 | 80,000 | | | | |
| 36 MILFORD STREET Redbank Plains Qld 4301 | 316,000 | -4% | -18% | -1% | -1% |
| 58 Queens Road Hermit Park Qld 4812 | 199,000 | 104% | 87% | -4% | 98% |
| 5/4 Buderim Avenue Alexandra Headland Qld 4572 | 244,000 | | -16% | -2% | -3% |
| 22 Wayfarer Road Heathridge WA 6027 | 486,500 | -4% | -5% | -10% | 2% |
| 33 Sharon Drive Carine WA 6020 | 430,000 | 62% | 21% | 4% | 15% |
| 26 Coffs Bend Secret Harbour WA 6173 | 400,000 | 6% | 0% | 2% | -1% |
| 27 Tolladine Vista The Vines WA 6069 | 830,000 | | -3% | 8% | -6% |
| 114 Ogden Street Collie WA 6225 | 170,000 | 22% | 3% | 8% | 3% |
| 9E/66 Great Eastern Highway Rivervale WA 6103 | 189,000 | 30% | | 8% | -7% |
| 5 Oneida Road Secret Harbour WA 6173 | 405,000 | 15% | -1% | 5% | -2% |
| Average variance to sold price | | 10% | 15% | 6% | 9% |
| Median variance to sold price | | 2% | 4% | 3% | 4% |
| Average bias of estimate | | 2% | 6% | 2% | 1% |
| No estimate available | | 16% | 13% | 20% | 25% |
| | | | | | |
| Count with estimate | | 126 | 159 | 172 | 160 |
| Max | | 179% | 466% | 131% | 152% |
| Min | | -57% | -89% | -73% | -48% |
| Missing (#) | | 34 | 28 | 42 | 54 |