With 2019 quickly disappearing in the rearview mirror, now is the perfect time to look ahead at the Australian property market outlook to see what the rest of 2020 has likely to bring.
Looking at the national market, as well as Melbourne, Sydney and other capital city property forecasts, housing prices are expected to continue to rise strongly, before potentially plateauing mid-way through the year.
Low interest rates are set to continue, contributing to a strong turnaround in the market that began in 2019.
If the growth continues at its current rate, prices will reach record highs around half-way through the year. At that point, it's likely that affordability issues will emerge and prices will remain steady until the end of the year.
Update: How Will Coronavirus Affect The Housing Market In Australia?
How did the Australian property market perform in 2019?
In 2019 the Australian property market made a remarkable recovery from what had been the lowest point for the market in years.
In fact, it was the fastest turnaround for the market in history, especially in the Sydney and Melbourne housing markets.
The market bottomed out in June, before rising strongly every month for the rest of the year. Falling interest rates, greater ease in securing home loans and the expectation of a further cut in rates all contributed to the rise.
According to QBE, 110,000 first home buyers entered the property market in 2019, which also contributed to price increases.
National average house prices grew by 4% in the last three months of the year, the fastest rate of growth for any three month period since 2009.

Five out of eight capital cities recorded price rises for the year, with Sydney and Melbourne having the highest increases (both rose 5.3% over the course of the year).
With such a strong end to the year, growth is expected to continue well into 2020.
National market forecast 2020
The Australian property market is forecasted to continue to grow strongly until at least half way through the year. Many experts expect prices to then plateau as prices begin to reach the limit of what most home buyers can afford.
Lower interest rates and improved lending conditions are contributing to the expected growth in prices. Many experts expect the Reserve Bank to further decrease rates, which would most likely lead to even stronger growth.
We have also now gone past the peak supply of apartments and units, and there is now less availability of these on the market. There has also been little supply of land added to the market. This decreasing supply will most likely see prices rise for both units/apartments and land.
Looking to sell? Learn how to compare agents to get the best bang for buck.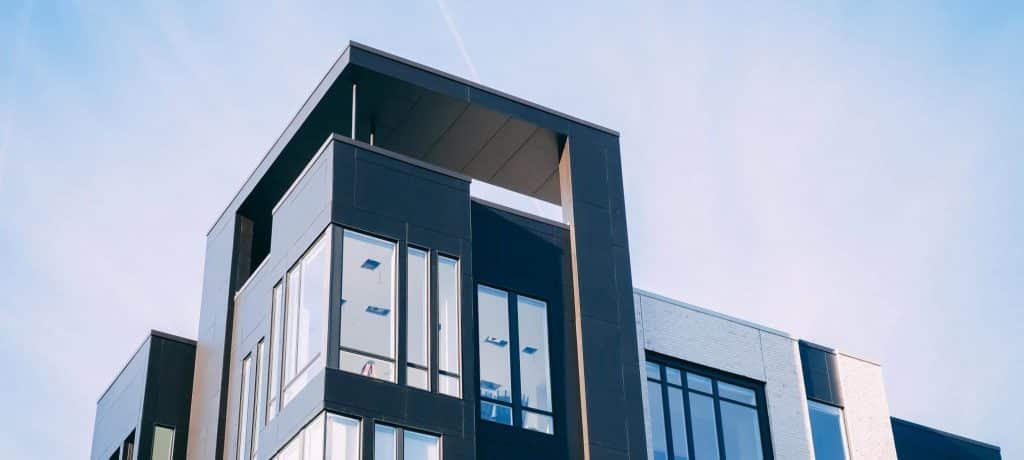 At the current trajectory, house prices in most capital cities are on track to hit all time highs.
According to AMP chief economist Shane Oliver, Melbourne could hit record highs by March, and Sydney is on track to hit them by May.
ANZ senior economist Felicity Emmett sees fairly uniform growth across the capital cities when the Sydney and Melbourne markets start to slow down. She sees easing buying conditions and the potential further rate cuts contributing to increasing prices across most of the country.
ANZ is predicting overall growth of 6% for the year across Australia.
Analysts at SQM Research expect house prices to grow significantly in 2020, and predict Melbourne and Sydney will see percentage growth in the double-digits.
They expect prices to rise in all capital cities except for Darwin.
SQM's base case predictions are based on a scenario of interest rates remaining steady, the economy improving and bank regulator APRA not intervening with lending restrictions to control growth.
Under SQM's modelling, the Reserve Bank cutting rates again would result in increased growth in prices.
SQM sees Melbourne and Sydney property prices hitting record highs by September, and also expect affordability to become an issue at this point. It sees a scenario where APRA could intervene mid-way through a year to slow down growth, which it expects would reduce percentage growth to single figures.
Westpac also expects Melbourne and Sydney prices to grow strongly in the first half of the year. It expects demand to then be displaced to other capital cities with prices in these areas rising accordingly.
QBE is also predicting high levels of growth, seeing strong population growth and reduced supply of houses being significant contributing factors.
With strong markets all across Australia, 2020 is looking like a great year to sell.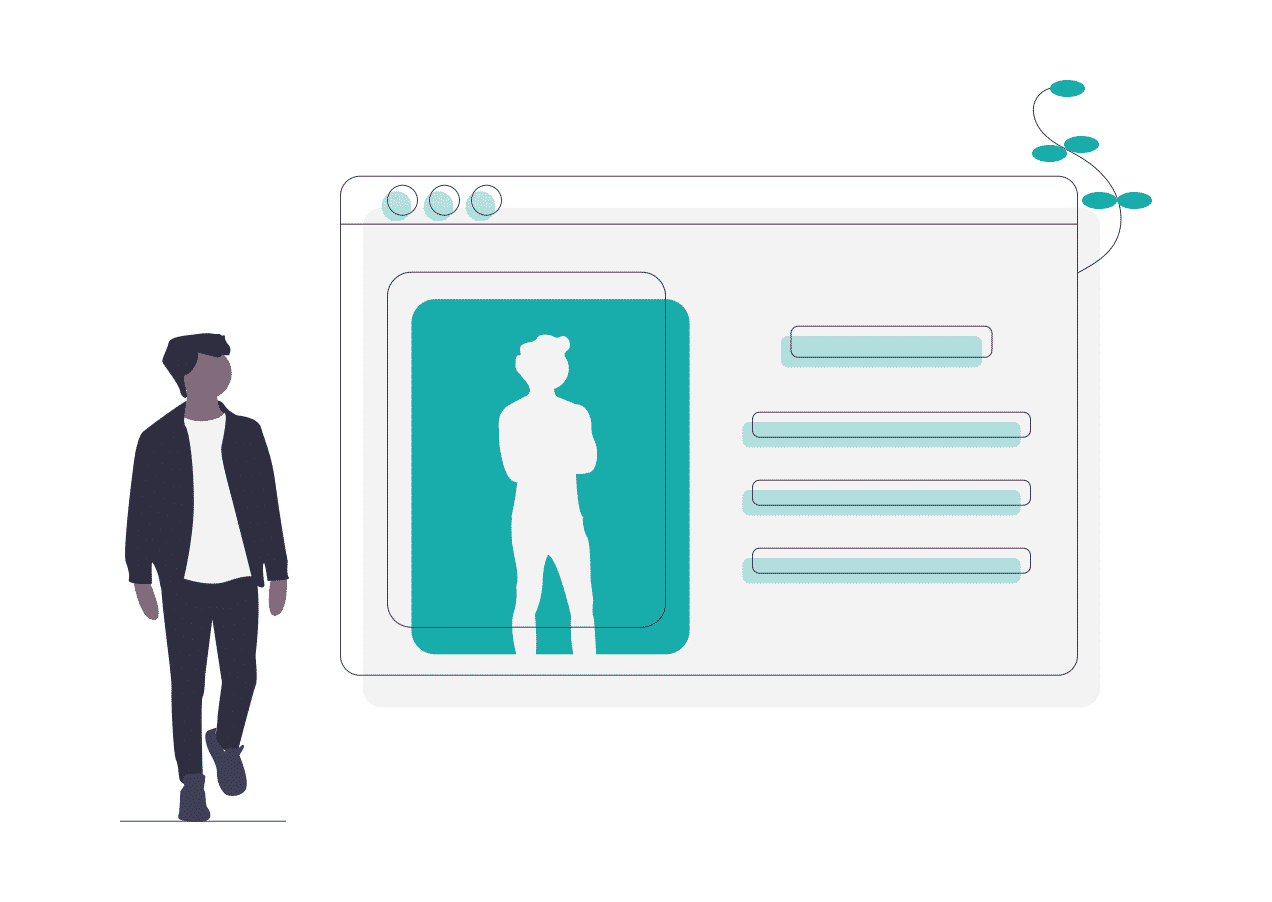 Speak to top agents about preparing to sell
Find top local agents in your area.
Sydney property market forecast 2020
Housing prices in Sydney are expected to grow very strongly in Sydney and are currently on track to hit record highs this year.
The house market in Sydney is currently stronger than it's been in years and many experts are expecting double-digit percentage growth in 2020.
SQM expects house prices to rise between 10-14% and possibly as much as 16% if the Reserve Bank cuts interest rates.
AMP is predicting prices will hit record highs by May, then plateau out when buyer limits are reached. Its predictions for growth match SQM closely, expecting to see a rise between 11-16%.
ANZ is predicting Sydney prices to rise by 7%.
Westpac sees prices growing by 6%.
A strong local economy, population growth and reduced restrictions to lending credit are helping fuel the growth.
The Sydney house price chart from Westpac below shows how prices have changed up until the end of last year. As you can see, prices look set to continue to soar.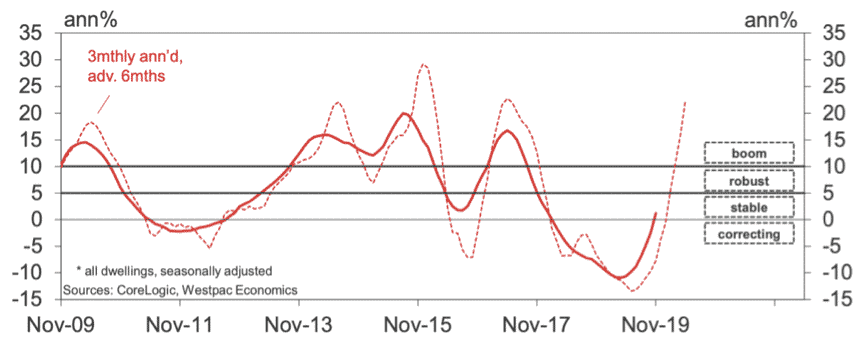 There is almost unanimous agreement among experts that Sydney house prices will grow sharply as the year continues. Opinion only varies on when the rise will start to plateau.
Learn more: Sydney Property Market Forecast 2020
Melbourne property market forecast 2020
The property market in Melbourne is set to closely mirror Sydney in 2020 and also see continued strong growth in prices.
Some experts are predicting a steeper increase for Melbourne than Sydney with record highs being hit earlier in the year.
AMP expects Melbourne to reach record prices as early as March, while SQM predicts this will happen in September.
SQM is predicting a percentage growth of between 11-15% if its expected scenario for the year plays out, which includes interest rates staying the same and no regulatory intervention from APRA until at least the end of the year.
It's forecasting growth between 12-17% if the Reserve Bank also cuts rates again.
ANZ is predicting a 9% rise in house prices for Melbourne.
Westpac expects to see prices grow by 6%.
As the below chart shows, Melbourne average house prices began rising sharply last year and look set to continue to do so into 2020.

The Melbourne market is well positioned to remain strong, with the highest rate of population growth in Australia and a robust economy. Want more information for Melbourne? Have a look at our dedicated Melbourne 2020 forecast article.
Learn more: Melbourne Property Market Forecast 2020
Darwin property market forecast 2020
The Property market in Darwin was the only one in Australia not to record growth in 2019. Looking ahead to the rest of 2020, Darwin is generally expected to see a decline in house prices.
SQM sees the most likely case is that Darwin prices will decline between 5-2%.
ANZ is predicting a similar decline of approximately 5%.
AMP Capital sees some potential upside for Darwin after possibly bottoming out on 2019, but that this would depend on individual projects going ahead before there is a definitive turnaround in the market.
Perth property market forecast 2020
House prices fell by 6.8% in Perth last year, but they are generally expected to rise in 2020. Property market predictions for Perth are slightly mixed, but most experts see at least some growth occurring for the remainder of 2020.
SQM sees prices most likely rising by 3-6% for the year.
ANZ is predicting a rise of approximately 1%.
Westpac expects prices to decline by 0.5%.
ANZ believes that Perth will begin a market turnaround this year after being weak for a long time. It see population growth, an improving job market and falling vacancy rates as indicators of a strengthening market.
SQM estimates that the Perth market was 10% undervalued as of the end of 2019.
Brisbane property market forecast 2020
The property market in Brisbane saw a slight increase in 2019, with prices rising by 0.3%. This increase is expected to continue and strengthen for 2020.
In SQM's most likely scenario, Brisbane house prices will rise by 3-6%.
ANZ expects Brisbane prices to rise by approximately 4%.
Westpac is predicting growth of 8% in the Brisbane market.
AMP Capital also expects conditions in Brisbane to support growth, due to relative affordability and lower vacancy rates.
SQM sees Brisbane as being 6% overvalued as of the end of 2019.
Learn more: Brisbane Property Market Forecast 2020
Canberra property market forecast 2020
The property market in Canberra rose by 3.1% in 2019 and were at record highs by the end of the year.
Growth is expected to continue for the Canberra market in 2020.
SQM expects prices to rise by 3-7% under its most likely scenario.
ANZ predicts price rises of approximately 6%.
AMP Capital expects that the Canberra market will be stronger than Sydney and Melbourne by the end of the year, due to relative affordability and falling vacancy rates.
Strong population growth and low unemployment will also contribute to strengthening the Canberra market.
Adelaide property market forecast 2020
The property market in Adelaide saw a very slight decrease in prices in 2019, with a 0.2% decline.
Experts expect to see modest growth in the Adelaide property market in 2020.
Under SQM's most likely scenario, Adelaide prices will rise by 1-4%.
ANZ sees prices rising by 2%.
Westpac is also predicting an increase of 2%.
As with Brisbane and Canberra, AMP also expects relative affordability and lower vacancy rates to contribute to a strengthening market in Adelaide by the end of the year.
SQM estimates that the Adelaide market was overvalued by 4.7% at the end of 2019.
Hobart property market forecast 2020
Hobart house prices grew by 3.9% in 2019.
The Hobart property market in 2020 is expected to see growth, but expert's views are mixed on how strong the growth will be.
SQM estimates it's most likely that Hobart house prices will grow by 5-8%.
ANZ is only expecting to see growth of around 1%.
Westpac is predicting prices in Hobart will rise by 5%.
ANZ doesn't expect that Hobart's price growth will be sustainable in the long-term.
SQM saw Hobart house prices as being slightly undervalued at the end of 2019.
Long-term Property Market Forecast: 2021-2022
Looking past 2020 to 2021-2023, the long-term housing market forecast is looking positive for sellers.
QBE predicted long-term housing market trends mid-way through 2019, and expects to see population growth and a decrease in new dwellings contribute to more growth in house prices up to 2022.
Looking at long-term housing market predictions for capital cities, Brisbane is expected to perform the strongest.
QBE expects Brisbane house prices to rise by 20% during the 2019-2022 period.
Adelaide house prices are predicted to see the next highest rate of growth over this period, with 12.7% increase in prices by 2022.
Sydney and Melbourne are expected to see a relatively low rate of growth, at 5.8% and 5.1% respectively for the period.
Hobart is expected to see the lowest rate of growth at 4.1% by 2022.
Interested in selling your house? Learn more here: Property Selling Guide
Michael Yardney from PropertyUpdate sees growth continuing after 2020 and into 2021. The combination of lower interest rates and better lending conditions, as well as increased consumer sentiment is expected to continue to bring more buyers back into the market.
Yardney also expects to see further cuts to interest rates by the Reserve Bank as it tries to help decrease unemployment and increase wage growth.
Like QBE, Yardney also sees population growth and fewer new dwellings resulting in further growth.
Though lending conditions have eased, lenders are still more conservative overall than they have been in the past, which may slightly limit growth compared to housing booms of the past.
Overall, market conditions are looking very positive for sellers in both the short and long-term.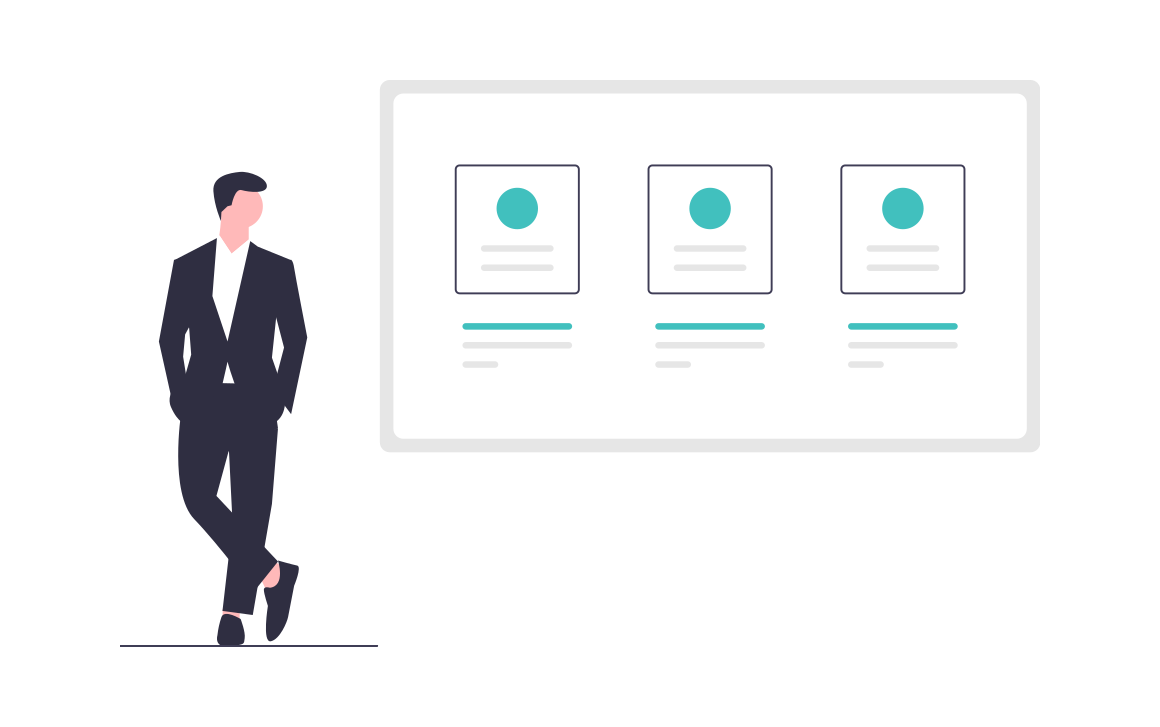 Compare top agents in your local area

See past sales, average fees and marketing costs.
Start your agent search now to obtain a quote from your top three local real estate agents and to understand the exact costs involved in selling a house and what your house is worth.