Want to know what's going to happen with the Australian property market in 2019?
We've analysed the latest Australian property market forecasts from the banks and specialist forecasters and compiled a roundup from now through to 2019 and beyond.
We looked at property market reports from the NAB, ANZ, Westpac, SQM and BIS and found that:
the major banks have downgraded their original predictions, including both decreases and increases around the country
prices are falling gently in Australia's two most expensive cities: Sydney and Melbourne
experts now predict nationwide prices to continue dropping this year and into 2019 before stabilising and beginning to rise in 2020.
Jump ahead to see national house or unit forecasts or to find out what experts predict for your capital city.
Current State of the Australian Property Market
Before diving into what the future looks like of the Australian property market for 2019 and beyond, let's see what's currently happening across the country (courtesy of Corelogic).
National Forecast
Australia's current downturn in the property market can be attributed to:
a surge in unit development ahead of expected population surges
APRA clamp down on mortgage borrowing
a decline in credit availability
rising interest rates
softening house prices.
According to the latest report by BIS Oxford Economics, prices are expected to stabilise in 2019 and slowly begin rising again in 2020, as predicted population surges hit. However, NAB and ANZ economists have downgraded their predictions due to confidence in property suffering a hit. They now predict:
steep declines in 2019
prices to stabilise in 2020 instead of 2019.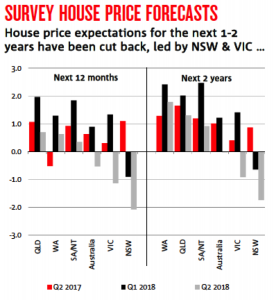 Source: NAB Residential Property Survey Q2-2018
Despite expected declines, property analysis firm SQM Research does not expect a market crash, issuing the following statement in their recent report:
SQM Research does not expect a general housing price crash to occur this year. The conditions required to create such a downturn are not in the housing market at present. The national economy is overall, healthy. Unemployment is relatively low and stable. Population growth is very strong. Oversupply of new real estate is only occurring in pockets.
Following the 2019 Australian federal election results, SQM Research have updated their forecasts, mentioning that dwelling prices may actually see some recovery before the year is over. This comes as a result of confidence in the market after fears about proposed capital gains tax and negative gearing changes from the Labor government were allayed.
Though SQM Research published a forecast scenario that included a Liberal government win and interest rate cuts, SQM's Louis Christopher mentions, "our scenario 4 estimates may well end up being too conservative, with the risks plainly being on the upside." An updated version of the scenarios can be found below, with the relevant scenario highlighted.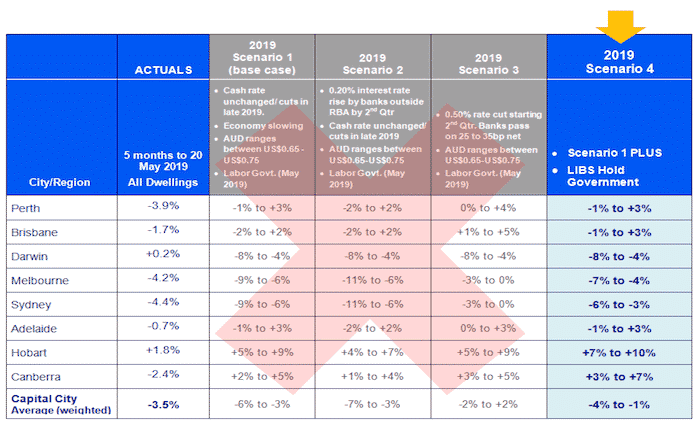 Property Value 2019 Prediction Calculator
Using SQM Research's Housing Boom and Bust report, we have created a calculator that finds the mid-point of their base case scenario and calculates an estimated property market value. The calculator asks for the capital city (or region close-by)  and then takes in an estimate of your property's current value.
Looking to sell in or before 2019? You might want to start talking to a real estate agent to see their opinion on your particular suburb or area's performance in 2018 and 2019. Make sure you use our real estate agent comparison tool to find a local, experienced agent that can give you an accurate property value.
Unit Development
Population growth and high median house prices have resulted in increased unit development in all major Australian cities. In some cities, the increase has led to oversupply, causing median unit prices to drop. For those looking to enter the property market, units appear to be the most affordable option.
Australia's population continues to grow with:
an increase of 6.5 million people expected over the next 15 years
Sydney and Melbourne expected to reach super city status, which is set to have an impact on the property market.
Median house prices have grown significantly over the past ten years, for example:
Sydney saw an increase of 111%
Melbourne increased by 104%.
This has made entering the market increasingly unachievable for many would-be homeowners, resulting in units becoming an ever more popular option.
Stamp Duty and Interest Rates
Adjustments to stamp duty and the introduction of new concessions by NSW and VIC governments have helped to offset price increases. However, these changes mostly affect units, as median house prices are usually higher than the cut-off amount for concessions.
Interest rates are at an all time low, with the most recent interest rate cuts occurring in 2016. Despite rising house prices, low interest rates are making it easier for investors to enter the property market.
Median House Price Forecast
In all but two cities, BIS Oxford Economics predicts Australia's median house prices to increase between now and 2020:
Increases will vary significantly between states, with the lowest expected to be 3.9% in Perth and the highest to be 18.3% in Canberra.
Increases will occur relatively evenly between now and 2020
Hobart is the only exception, experiencing the most significant increase this year and smaller increases in 2019 and 2020.
Of the eight major cities, only Sydney (-5.4%) and Darwin (-2.8%) will experience an overall decline in median house price. However, BIS Oxford Economics expect this to slow in 2019, with increases beginning in 2020. Despite this, median house prices are likely to finish below current median prices for both cities in 2020.

Source: The QBE Australian Housing Outlook Update 2018
However, economists for major banks, NAB, ANZ and Westpac, agree that these figures are now too optimistic. Their updated predictions include:
an average national house price drop of 1.8% in 2018 and 0.1% in 2019
an average national unit price drop of 1.7% in 2018 and 2.2% in 2019
increases to be subdued and limited to Adelaide, Brisbane and Hobart.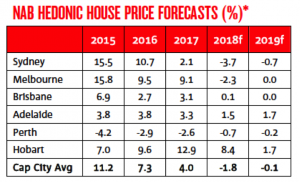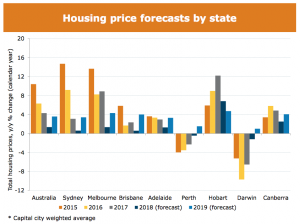 Source: ANZ
Median Unit Price Forecast
BIS Oxford Economics expect median unit prices to decrease, predicting the largest depreciation to occur this year. Smaller decreases should occur in 2019, with median prices either plateauing or increasing slightly in 2020. An exception to this is Brisbane, which will likely see decreases in median unit price throughout the next 3 years. Adelaide, Hobart and Canberra are the only Australian cities predicted to see an increase in median unit price, with Hobart seeing a significant increase of 13% by 2019.
These figures have already changed significantly between QBE's initial forecast report in June 2017 and the 2018 update, so it is essential to keep abreast of changes to the assumptions that underpin these predictions. You can download the 2017–2020 report here and the 2018 update here.

Source: The QBE Australian Housing Outlook Update 2018
As with housing, the major banks have predicted more subdued increases in median unit price, with Hobart scaled back by half (6.5%) that predicted by BIS.
Although the banks have downgraded predictions, BIS Oxford Economics's 2018 update still predicts higher decreases for most cities. In some cases, figures are now more closely matched between the various reports. For example, BIS, NAB and ANZ have predicted:
Brisbane median unit price to fall by 5% to 7% by 2019
Melbourne median unit price to fall by 4% to 5% by 2019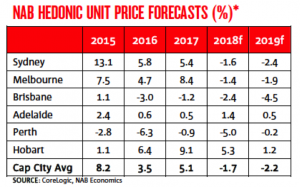 Major City Forecasts
Despite the current downturn in the market, prices will continue to increase in many Australian cities over the next 3 years, albeit at a slower rate. The overall trend of slowing growth differs by major city, and you can find details on each below. The following graph from the Residential Property Prospects 2018–2021 report by BIS Oxford Economics provides an overview of expected growth between now and 2021.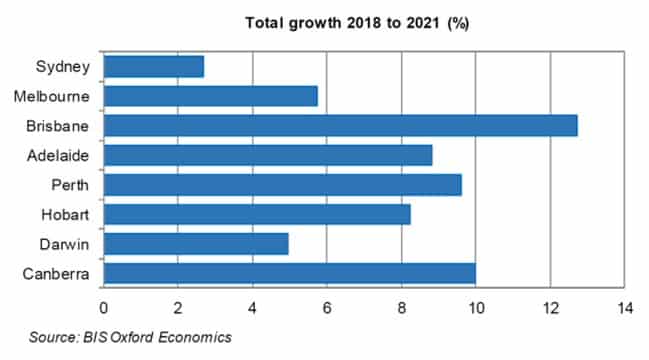 Brisbane Forecast
Expected Median House Price in 2019: $575,000
Expected Median Unit Price in 2019: $395,000
According to the 2018-2021 report from BIS, Brisbane house prices will continue to appreciate through to 2021, with an overall expected growth of approximately 13%. This significant increase is due to:
consistent population growth
improved job creation rates
low unemployment rates
Brisbane's jump to top major city for relocation.
The major banks' more conservative predictions for 2019 and 2020 will likely bring this increase down, but the city should still show growth by 2021.
Brisbane has experience a dramatic increase in unit supply, with unit construction rates rising from 36% to 57% of new housing stock. Despite the increase in migrants, experts expect unit prices to depreciate by approximately 10% by 2020 due to forecasted oversupply of units. After an initial decrease of 5% this year, 2019 is set to see a further 2% decrease, followed by 3% in 2020.
According to the SQM Research Boom and Bust 2019 report, Brisbane will be less volatile than other capital cities in 2019. In their adjusted forecast following the Liberal government win, the Brisbane property market is estimated to move -1% to +3%.
Sydney Forecast
Expected Median House Price in 2019: $1,120,000
Expected Median Unit Price in 2019: $755,000
After dramatic growth over the past decade, Sydney median house price is currently the highest in Australia at $1.14 million. Last year saw this begin to decrease, which is a trend that will continue into 2019. However, depreciation will slow and revert in late 2019/2020, when median house price will begin to increase slightly. This increase is likely to be insignificant so will not be enough to see the median house price return to today's high figure. (Residential Property Prospects 2018–2021)
Experts predict that median unit price will follow a similar trend, with a predicted overall decrease of 6.3% by 2020. The majority of this decrease will occur this year and into 2019 and prices should begin to stabilise in 2020, which remains consistent with downgraded predictions from major banks.
Property market experts SQM Research also predict a similar trend for 2019. Having adjusted their forecasts slightly following the election results, Sydney's average property is estimated to fall -6% to -3%.
Melbourne Forecast
Expected Median House Price in 2019: $915,000
Expected Median Unit Price in 2019: $540,000
Melbourne house prices reached their peak at the end of 2017 and are expected to remain stable through to 2021. At 2% per year, BIS's predicted increases are insignificant and will be below levels of inflation. Current high levels of construction will see the release of an abundance of new dwellings; however, expected population growth should offset any effect this supply will have on housing prices.
Contrary to this, major banks predict a drop of 2.4% this year, with prices stabilising in 2019 and increasing from 2020.
The QBE Australian Housing Outlook Update 2018 predicts a decline in median unit prices (approximately 4%) by 2020, with most of this decline occurring in 2019. 2020 should see unit prices stabilise. This appears to be in line with major bank predictions.
In SQM Research's newest report on market predictions following the Liberal government win, Melbourne follows a similar trajectory to Sydney. Property prices are tipped to continue falling -7% to -4%, though rising confidence and interest rate cuts may slow falls or even reverse the trend.
Canberra Forecast
Expected Median House Price in 2019: $740,000
Expected Median Unit Price in 2019: $445,000
Supply and demand appear well matched in Australia's capital city. Median house price is set to increase by a further 8% by 2020, with 5% growth occurring in 2019.
Unlike many other Australian cities, experts predict median unit price in Canberra to appreciate by 2020; however, at 1% per year, the increase will not be significant.
According to SQM Research's Housing Boom and Bust report for 2019, Canberra has seen the second highest growth between October, 2017 and October 2018, showing a +4.3% increase in property value. Despite values predicted to continue falling across the country, Canberra is one of the few capital cities tipped to continue growing between +3% to +7% by the end of 2019.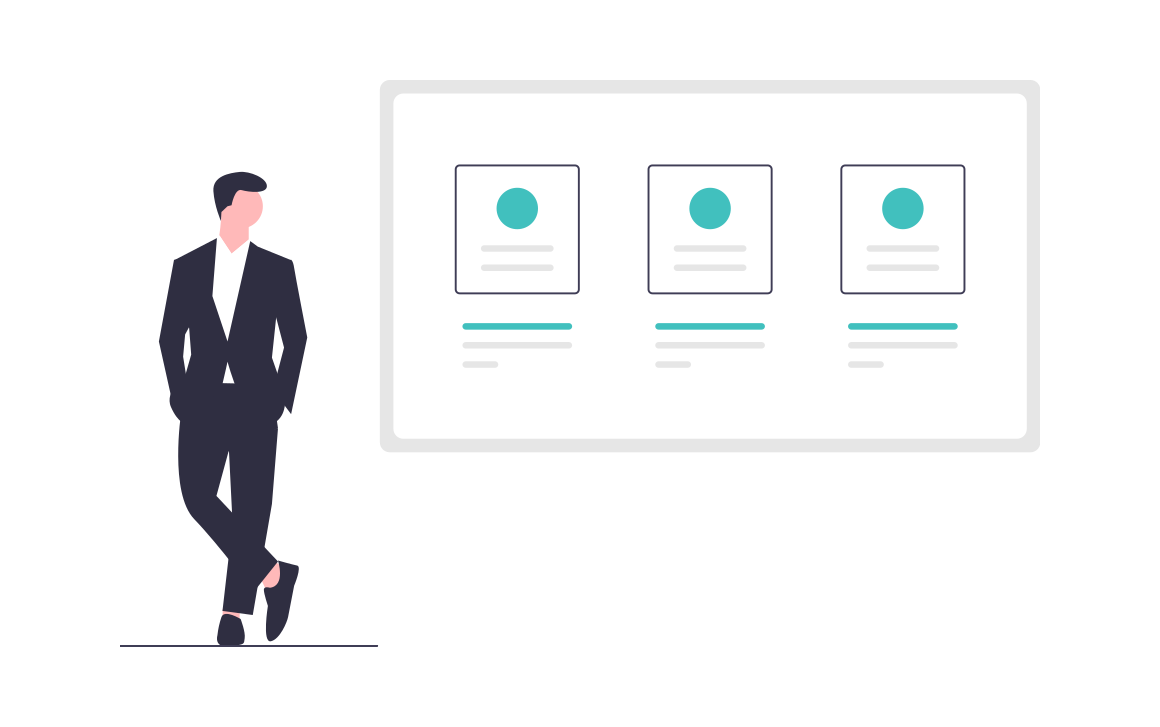 Compare top agents in your local area
See past sales, average fees and marketing costs.
Adelaide Forecast
Expected Median House Price in 2019: $520,000
Expected Median Unit Price in 2019: $365,000
The community in Adelaide is currently cautious about investing in property, with the state's automotive industry shutting down. The city should see improvement in the coming years, as its shipbuilding industry takes over. Adelaide's property market will see small increases in median house price in the coming years, with a 2% rise predicted for 2019. (Residential Property Prospects 2018–2021)
Unit prices will remain stable in 2019 before rising by 2% the following year.
SQM Research has also thrown their hat into the ring with their own predictions. Adelaide has shown some modest growth in 2018, but they predict a small decline in their base predictions for 2019. We could see a small -1% to +3% adjustment in Adelaide's property values, according to SQM Research's updated figures following the election results in 2019.
Perth Forecast
Expected Median House Price in 2019: $535,000
Expected Median Unit Price in 2019: $400,000
The past 4 years have seen a depreciation of 13% in Perth house prices. This year appears to have brought the decline to a halt and median house prices are expected to begin increasing in 2019/2020.  The current dwelling oversupply is the cause of Perth's slow pace in recovering from the recent slump; however, increased migration and more residents choosing to remain in Perth will help reduce oversupply and drive prices up from 2021. (Residential Property Prospects 2018–2021)
After decreasing this year, unit prices are expected to stabilise in 2019 before appreciating in 2020 by approximately 1%. (The QBE Australian Housing Outlook Update 2018)
SQM Research have also given an opinion on the Perth property market for 2019 in their Housing Boom and Bust report. Despite a small decline in 2018, Perth is expected by SQM Research to remain relatively stable or grow modestly. They give a range of -1% to +3% growth for the Perth market.
Hobart Forecast
Expected Median House Price in 2019: $510,000
Expected Median Unit Price in 2019: $375,000
Hobart is currently seeing significant growth (10%) in house prices and, although expected to continue, it will slow to 2% to 5% in 2019 and 2% the following year. Records show current migrants include young people and families.
Unit prices are predicted to follow a similar trend, with current growth at 9%. This is set to slow to 2% to 4% in 2019.
Hobart has experienced meteoric growth in 2018, and according to SQM Research's newest Housing Boom and Bust report, this trend will remain strong into 2019. With a Liberal government win in May 2019, SQM Research adjusted Hobart to include a growth of +7% to +10%.
Darwin Forecast
Expected Median House Price in 2019: $515,000
Expected Median Unit Price in 2019: $370,000
As with Perth, Darwin has experienced a significant decrease (19%) in median house price since 2014. Experts predict prices to bottom out this year and remain stable in 2019 before increasing by 2% in 2020. The slow pace of expected growth is attributed to an oversupply of housing in the market.
Darwin has seen the highest decline in median unit price this year, with a decrease of 21%. As with houses in Darwin, unit prices should remain stable during 2019 before increasing by 3% the following year.
Darwin is predicted by SQM Research's Housing Boom and Bust report to see further declines. In all of their prediction scenarios (which account for varying amounts of bank intervention and political shifts), Darwin is expected to fall somewhere between -4% to -8% in property value over 2019.
Looking to Buy or Sell?
If you are in the market for a new home or to sell your current home it's vital to be aware of current predictions and expected changes, especially in your local area.
Your local real estate agent has in-depth knowledge of the property market and can help you stay informed. Find a quality real estate agent in your local area now using our agent comparison tool and get expert advice on your current property investment portfolio or potential strategy.
Start your agent search now to obtain a quote from your top three local real estate agents and to understand the exact costs involved in selling a house and what your house is worth.