Best Time to Sell Property, the Definitive Guide
With the passing of spring you may think you have missed the best time to sell your property. Somewhat surprisingly the best time to sell your property is autumn, with most property transactions occurring during the month of March, followed by May.
RP Data analysed sales volume between January 2000 and December 2009 and found that March was the busiest month for both units and houses across Australia.
Interestingly, volume does not change significantly throughout the year, with the level of transactions remaining relatively steady before the Christmas slow down over December and January.
An academic study by a senior lecturer at the University of South Australia, Peter Rossini, came to a similar conclusion. "While the so-called "spring rush" in the residential markets may possibly result in more human activity, there is no evidence to suggest, compared to summer and autumn, there are more transactions or higher prices".
Peter Rossini found that the month of the year you sell your house appears to have very little bearing on the price achieved, with one small exception – during the winter months properties sell for approximately 1% less than other seasons.


What about spring?
Even though there is an increase in the number of listings in spring (as seen in the chart below), this is not supported by an increase in the number of sales. While vendors may be drawn to selling their homes as the weather improves after winter and the flowers start to bloom, it may actually be in their interests to hold off until after Christmas.
Listing in spring will put your property in a competitive seller's market and at a time when buyers are not at their most active.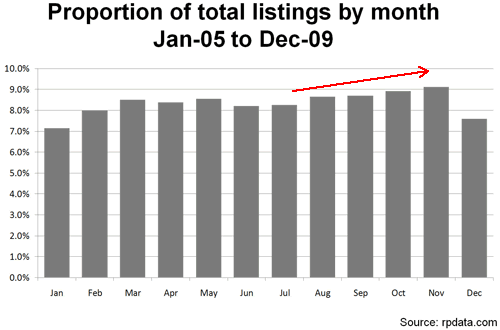 Glut of properties on the market
This year, the spring period has been tough for sellers. There are currently more properties on the market advertised for sale than at any time over the last five years. The competition for that elusive buyer is intense, with many properties failing to even attract one registered buyer at auction.

This is due to a shortage of buyers and a slow down in the time it takes to clear existing stock, rather than an increase in the number of properties coming onto the market. Newly advertised properties being added to the market are approximately 11% lower than the same time last year (RP Data).
This is all particularly evident when recent data on the average number of days it takes to sell a property is reviewed. Witness the increase over the last 12 months in the average length of time it is taking to sell property in the chart below.


So when is the best time to sell property?
From the data available it appears listing in the new year and positioning your property to sell between March and May will maximize your chances for success. This will place your property on the market during a period when historically most sales have occurred and buyers are at their most active.
When is the best time to buy property?
Conversely, if you are looking to buy property, spring may be the best time. There is an abundance of choice (especially at the moment) and the competition from fellow buyers is relatively low. You may wish to also consider purchasing in winter, as Peter Rossini found purchasers secured property marginally cheaper on average during the colder months.
Refer to our article about the best time for buying for more information on the topic.
If you are considering selling your property, make sure you contact us before talking to an agent, we provide unbiased and free advice on who the quality real estate agents are in your local area. It's all we do.
It is a currently a buyer's market and now it is more important than ever to ensure you have the best possible agent selling your property.
Start your agent search now to obtain a quote from your top three local real estate agents and to understand the exact costs involved in selling a house and what your house is worth.