Australian Property Market Outlook – 2013 and Beyond
See our 2014 Australian Property Market Forecast here. This articles relates to 2013.
Housing credit growth (a leading indicator of the demand for property) – Australian's are showing a slight increase in appetite to borrow, albeit still significantly below previous levels.

The latest data available from the RBA is to March 2013, and a shorter term analysis highlights this credit growth is best described as anaemic.

So in short demand side dynamics, at least to March 2013, are little changed.

Debt – household indebtedness (household debt / household assets) remains near the all time high at 30.3% (as at Dec 2012, latest quarterly data available from the RBA).

Thankfully mortgage serviceability, as represented by housing interest costs / disposable income continues to improve thanks to lower interest rates.

This improvement in serviceability provides some capacity for a short term increase in prices. Longer term positive price movement will depend on the economic outlook and employment levels, as discussed below.

Economic Outlook – with many economists now forecast the mining boom peaking during 2013, with capex forecast to decline from 2014, there is a sense of urgency to the revival of Australia's non-resource sectors. The fall in the AUD should help marginally (currently 4% down on a trade weighted basis), although the current downgrades in company earnings forecast for FY13, doesn't bode well. It reflects a languishing economy, particularly outside mining and the major banks. Company earnings excluding the major banks are forecast to be down 7% on FY12.

This will impact employment, as the Australian Government forecast recently in its FY14 budget, with unemployment expected to rise to 5.75% in 2014.
While we are broadly positive on Australia's relative economic position, we believe a long term improvement in property prices, given the above macro factors, is still a long way off.
A more short term analysis of the Australian property market can be found in our monthly updates section.
—————————
So much of the commentary on the Australian property market is recycled snippets from various 'experts' on historical daily, weekly or monthly house prices at a capital city level. Such general price movements, so short-term in nature are best described as noise. While we also comment on monthly price movements by city in our monthly property dashboard, we predominately focus on the broader trends occurring and glean what insights we can from the various leading indicators, published by reputable institutions such as the RBA, ABS and the consumer sentiment survey from Westpac.
Current State of the Australian Property Market
What do we currently know about the Australian property market and the various leading indicators?  Unfortunately the news isn't good.
A key leading indicator for future demand for property, is the growth in housing credit. According to the RBA, housing credit grew by 5.1% over the 12 months to June 2012, which is the lowest level of growth for over 30 years. This is reflected in both the owner occupier and investor segments, with both at or near 20 year lows. This is clearly shown in the following chart from RP Data.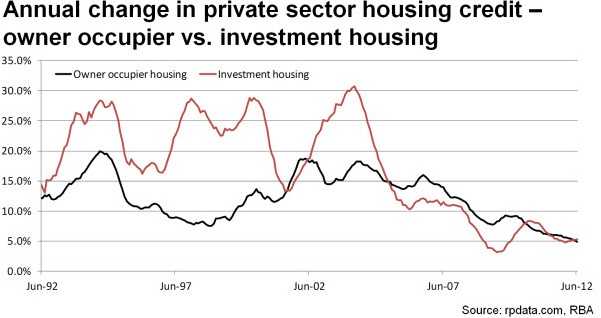 What is causing this incredibly low period of credit growth? Simply that Australians are heavily in debt, pessimistic on the economic outlook and would prefer to keep their money in a bank account and pay down debt than invest in property, which nearly everyone acknowledges is fully valued. Now let's look at each factor in turn.
Debt
According to the latest data available from the RBA, Australian's level of housing debt to housing assets is the highest since data collection began in March 1977, sitting at an uncomfortably high 30.9%.
There have been demographic shifts that have enabled Australian's to support an increased level of debt, such as two income households and recent periods of low inflation and interest rates, however the current level is alarming. In March 2000 it was at 20.7% and in March 1990 it was at 11%.
Thankfully interest rates are relatively low and are forecast to come down further, so servicing this debt should be manageable by most, as long as employment remains strong. The market is pricing in an almost 1% fall in the cash rate by this time next year. Read the following article if you are unsure whether to fix your interest rate exposure.
Economic Outlook
With the US fiscal position horrible (public debt / GDP > 100%), the Eurozone (world's largest economy) heavily indebted, and still no end in sight three years on, China's growth slowing significantly, and no one politician showing the fortitude required to address these problems head on, most Australian's are understandably concerned.
Australian's Confidence Levels
According the latest Westpac Melbourne Institute Index of Consumer Sentiment released 12 Sept 2012, 63.5% of respondents "prefer conservative savings options, covered by bank and other forms of deposits in conjunction with "pay down debt" … that compares with 64.2% in December 2008 when we were at the height of risk aversion during the Global Financial Crisis.
In short, respondents are exhibiting a similar level of risk aversion in terms of their savings preferences as we saw in 2008".
Of particular note for those of us interested in the property market, the proportion of households that saw real estate as the wisest place for funds fell over 20% from 25% (June 2012) to 19.8% (Sept 2012).
The Australian Property Market Outlook
So what does this mean for Australian property market outlook and prices in the future?
The medium to long term view is that until the various factors outlined above are either resolved or improve substantially, the Australian housing market will languish. Unfortunately due to the systemic, long term nature of the problems, this will be for quite some time.
There will be volatility (noise) and continual speculation of a rebound by 'expert' commentators pushing their own agendas, but until you see household indebtedness materially reduce, and global economic uncertainty resolve itself, I would remain very skeptical.
Over the short-term it is hard to ignore the continual decline in the number of home sales (as shown by RP Data in the table below) and the forecast increase in number of properties on the market.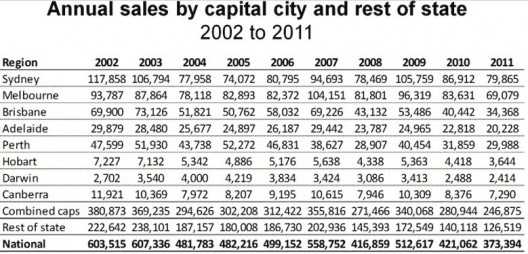 As can be seen in the chart below (source: RP Data) the number of properties listed on the market generally spikes during late Spring and into the beginning of Summer. What is particularly concerning is the elevated number of properties already on the market, at the beginning of the Spring season. According to RP Data there are 10,800 more properties on the market at the moment than this time last year (Victoria responsible for most of this increase).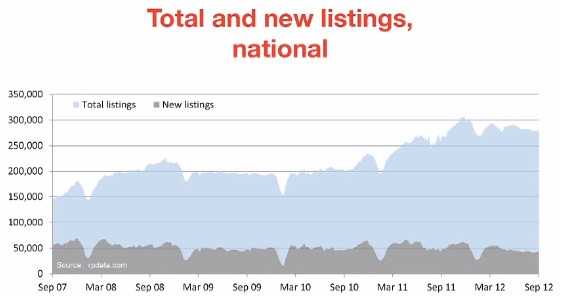 This surplus of properties on the market, combined with ever reducing number of sales actually occurring does not bode well for those owners seeking to sell.
The silver lining for those wishing to upgrade is while you may not secure as much for your existing dwelling, at least the property you upgrade to should be cheaper. Unfortunately for those with investment properties or are seeking to downsize, they face a hard choice, either exit at current prices, or face what appears to be an extended period of (what we estimate) to be zero real capital growth and generally sub 4% net yields.
As always, everyone's personal circumstances are different, and if you are thinking about selling, make sure you use the best agent possible.