Australian Property Market Outlook 2014 – Real Estate
Is the Australian property market set to continue its impressive 2013 growth into 2014? We analyse the market's fundamentals and at the same time gaze into the future.
1. Affordability
Housing affordability is at the highest level since June 2002, according to the latest (Sep-13) affordability study conducted by the Commonwealth Bank and the Housing Industry Association.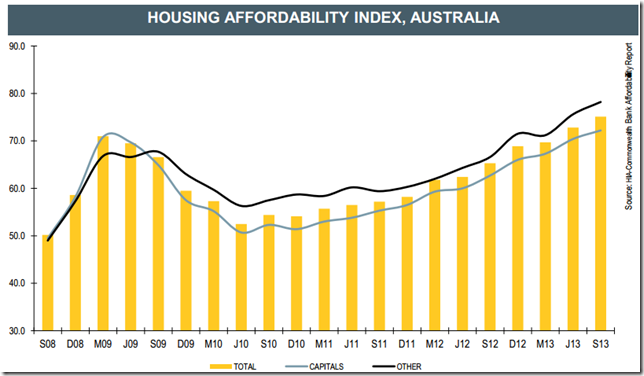 As can be seen in the table below this significant improvement in affordability is due to the sharp decline in interest rates. Also contributing is the declining Median Dwelling Price, which is the median price of established dwellings obtained from home loans financed by the Commonwealth Bank of Australia during the quarter. We know this has since reversed strongly.

Will Affordability Remain Low?
In short, no. Interest rates are forecast to rise, median dwelling prices are already rising and wage growth has been slowing.
The improvement in affordability is actually an improvement in mortgage affordability as it includes the cost of servicing debt in the calculation.  This matters because the cost of debt (interest rates) is cyclical and can hide the underlying affordability of housing over the medium to long term, and housing loans are long term liabilities.  
The current situation is a prime example of this.  Interest rates are at their cyclical low so servicing a mortgage is relatively affordable.
However as interest rates rise, as is forecast from mid to late 2014 (see graph below), then affordability will diminish and potentially cause financial distress to those who have recently bought property at high gearing levels. This is occurring.  APRA reported towards the end of 2013 that 33% of new home loans are with an LVR greater than 80%.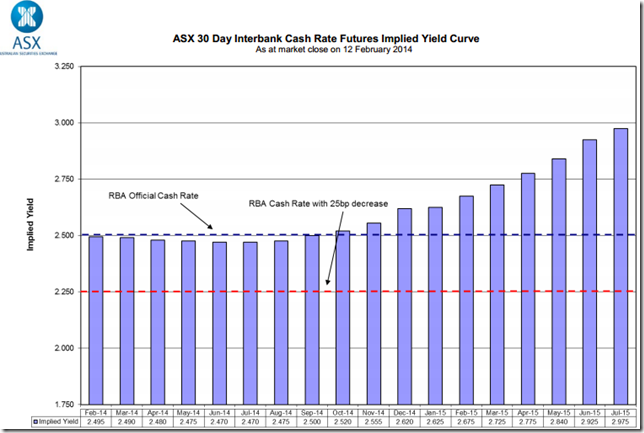 What About Wage Growth?
For property prices to increase in a sustainable manner over long periods high real wage growth is required. Continuing falls in the cost of borrowing is not sustainable.  Eventually property prices will broadly move in line with wage growth and net disposable income, not counting for demographic changes and population growth (see next section).
Wage growth has significantly declined over the last five years from approximately 4-4.5% to 2.7% (near the lowest rate in 15 years). The RBA forecasts nominal (before adjusting for inflation) wage growth of 3% over their forecast period (to Dec 2015). This slow wage growth should act as a brake on future price growth and its impact will likely be realised when the interest rates rise again, no longer masking this slow down.
2. Demand and Supply Balance
Australia is experiencing strong population growth, with 407,000 additional people in the year to June 2013 (1.8% growth vs 0.7% USA, 0.5% Europe & China).  This drives demand for housing from relatively fixed housing stock.
The chart below illustrates new dwelling commencements were somewhat subdued over the past five years with activity falling to 133,000 during 2008/09, recovering and then subsequently declining again for two consecutive years in 2010/11 and 2011/12.  This constrained supply is expected to somewhat moderate with the HIA projecting housing starts will rise near 170,000 by the end of the decade.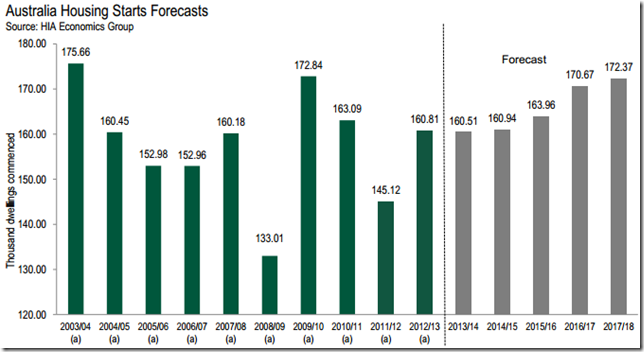 3. Employment
Australia's unemployment rate remains very low, despite it increasingly slightly of late, and due to a falling participation rate there has been no aggregate job shedding in Australia.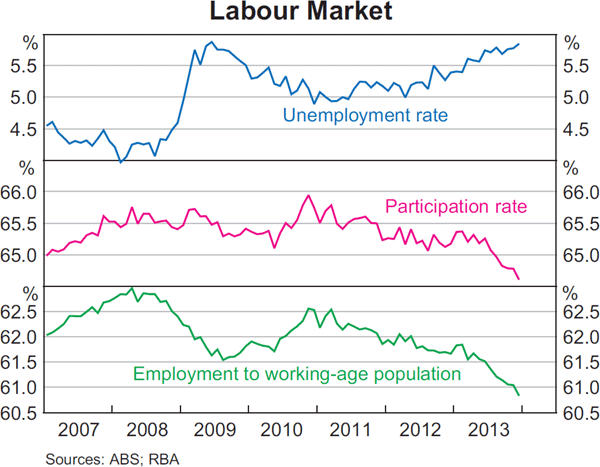 The RBA expects employment to grow modestly over the near time and then expects it "to pick up gradually, but to remain below the pace of population growth over most of the forecast horizon. Accordingly, unemployment is expected to drift gradually higher".
4. But What About The Investors?
As it is clear that investors are driving the current property market growth (see below) it is worth reflecting on the health of their investment's cash flow – renters.
The Australian Bureau of Statistics Housing Occupancy and Costs report in 2013 highlighted that 30% of renters are suffering from housing stress, that is they are spending more than 30% of their gross income on housing costs (rent and body corporate fees).   This is up from 24% in 2007/08 and 28% in 2009/10. 
With the RBA forecasting low wage growth and with an increasingly large number of renters suffering housing stress landlords will find it difficult to improve on their very mediocre rental returns. Net rental yields are already below borrowing costs (see gross rental yields below – RPData, Feb 2014)
As property prices increase rental yields will fall to even more unattractive levels. Between 1996 and 2003 gross rental yields fell from ~8% to 4% as the property market boomed.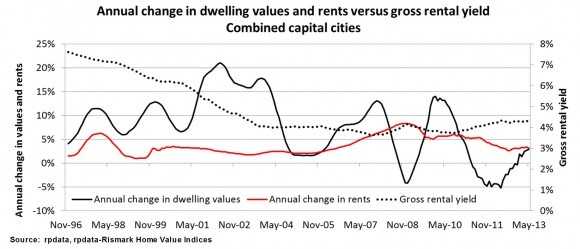 When this period of capital growth fades investors will be faced with a choice – continue to invest in property with rental yields at uneconomic lows or invest elsewhere. We suspect it may be the latter.
So, What Does The Future Look Like?
For the next year or so growth will likely remain as investors continue to be fuelled by low interest rates. 
Over the longer term however we suspect growth will slow, if not trend sideways/fall as interest rates rise towards the end of 2014, unemployment increases moderately, supply constraints ease due to increased housing starts and the underlying weak wage growth is felt. If the Aussie dollar falls further and the struggling manufacturing industry picks up, along with employment, then the slow down may not be too pronounced however at this stage it is not looking likely as we are seeing a somewhat stubbornly high Australian dollar.