Australian Property Market Update – May 2013
Prices Falter
The upswing in property prices since beginning of 2013 faltered in May, with prices for the month to 22 May according to RPData falling across the board from -0.4% in Brisbane to -1.5% Adelaide.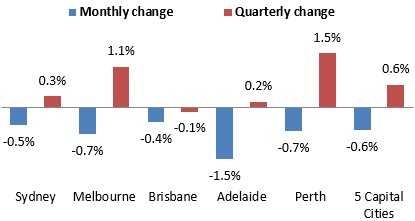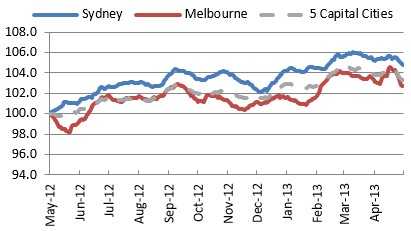 Sentiment Falls
Sentiment fell by 7% in May from 104.9 in April to 97.6 in May with pessimists outweighing optimists for the first time since October 2012. Australia's deteriorating fiscal position, as highlighted by the budget, is seen as the primary contributing factor to this decline. What is unknown is whether this is a short-term response or part of a broader concern about the political management of the Australian economy. The silver lining was a 11.1% increase in those that thought it was a good time to buy a dwelling. Westpac Press Release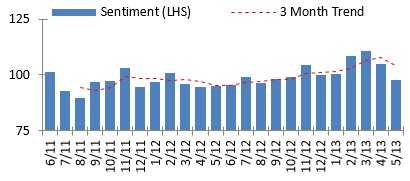 Equity Market Speed Bump
The 30% increase in the All Ordinaries over the last 12 months took a slight breather towards the end of May as several companies downgraded full year FY13 earnings forecasts. It is now expected that total market earnings will slip by over 7% on FY12, excluding the four banks.
The clear impact of this will be reduced Government tax receipts and of particular concern to property investors lower employment growth.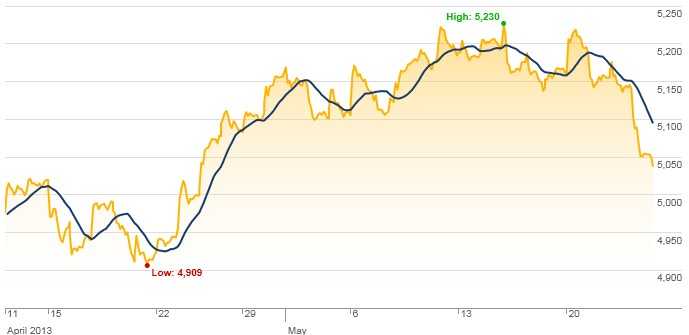 To put this in perspective though Australian investors (particularly those who reinvest dividends) have little to complain about with the ASX All Ordinaries Accumulation Index (growth and yield) is just 3% shy of its 1 Nov 2007 record and on 14 May 2013 hit a 5.5 year high.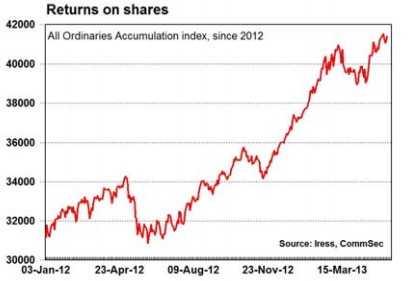 The recent weakening on the AUD against its trading partners should assist export orientated manufacturers. On a trade weighted basis the AUD has lost just over 4 per cent.
Unemployment
Aggregate unemployment improved slightly in April, slightly moderating the negative trend. The DEEWR leading indicator was neutral in May on the back of three months of a deteriorating outlook.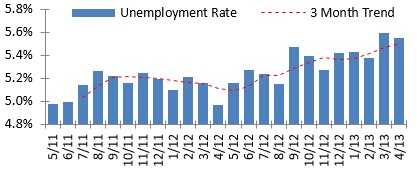 Separately in the FY14 Australian Government Budget the Treasury forecasted unemployment increasing to 5.75% in FY14 and FY15.
Digger a little deeper, unemployment increased marginally across all States, except QLD when unemployment continues to improve from a peak of 6.10% in October 2012. WA and TAS are in particularly bad shape with negative trends setting in.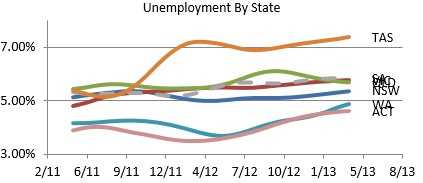 Interest Rate Near Bottom
The market is currently forecasting interest rates to bottom at ~2.44% by Feb-14 before again climbing slowly. The recent AUD easing and lack of any uptick in inflation may keep the RBA on the sidelines for a while, unless the economy significantly deteriorates.
Serviceability Improving, Gearing High
Mortgage serviceability, as represented by housing interest costs as a percentage of disposable income continue to improve thanks to RBA action.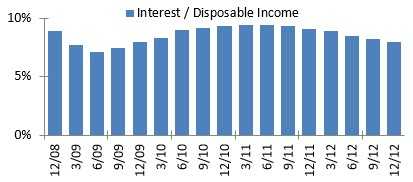 This is required as household leverage (household debt / household assets) is again near the all time high of 30.6%, rising to 30.3% at Dec-12 (latest available).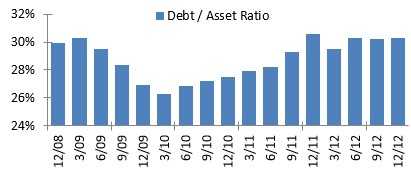 Still Supply Side Challenges
The supply side remains a challenge, with dwelling approvals still falling relative to population growth.